Price: £59.99 (Jan 2012)
Materials: Injection moulded plastic and fine black thread
Decals: Six options
Review by: Geoff Coughlin and Les Venus (content taken from review of earlier release)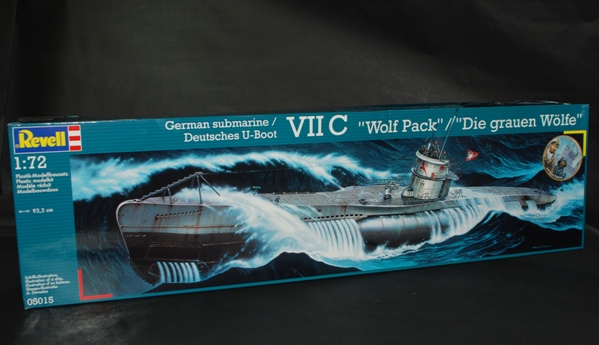 Introduction
You will see that Les V has already reviewed this kit in an earlier guise: "Atlantic Version". This release is essentially the same kit with new decals and a fresh outing.
It was good then and remains so now. This review is intended to update the images and offer you a little more in the way of our current style at SMN – offering you much more of an insight than elsewhere.
Here's something to get you in the right frame of mind and also provide some excellent reference images for your build:
Les mentions below in his original review that the "Wolf Pack" version was a best seller and, now it's back, which I'm sure will please many.
What it looks like…
Here's a few shots sent to us by Revell of what you'll be working towards if you take-on this kit. Click on the Thumbnails to enlarge the images and enjoy!
This is Les' initial take on the kit…
First Impressions
The Type VIIC U Boat is probably one of the most infamous weapons of WWII. Revell have produced two versions of the Type VIIC, the first and now difficult to find 'Wolfpack' version was a best seller and I have seen some fabulous examples of this beautiful kit in various guises.
Indeed, at the 2010 Scale Model World (Telford) I saw about four completed examples, at least two used the aftermarket parts available to detail the insides. Either way, the Type VII is one good looking boat.
U Boats in Action tells us that the Type VIIC was the most widely used U-Boat of WWII, with more than 600 entering service with the Krieg marine; they and their captains were the cream of Donitz U Boat fleet and were one of the most feared fighting forces on any side in WWII.
Incredibly, the Type VII is the most produced single type submarine in maritime history and sits now enshrined in legend as the scourge of the Atlantic. Designed to dive to 125m, there are recorded instances of dives in excess of 250m in emergencies.
This is a model that, like the real boat, demands respect in its construction.
On opening the box you're confronted with two huge hull sides of 95cm long in a hard pale grey plastic that has very good levels of detail.
It inspires the builder simply taking the hull out of the well designed and packed lid and tray type box. Indeed, opening the box exceeded all my expectations, which has to be a good start.
Unlike other U Boats, the Revell Kit is all plastic. This said it doesn't detract from what at first sight looks a well detailed kit, but which will need some personal touched not least in the rails and masts.
The huge lid and tray box has a great picture of the Type VIIC/41 in its hunting territory. It's a really fabulous looking Boat and the box screams "buy me!" and also, 'run out and get a copy of Das Boot!'
Something that shows that Revell is that the box sides are full of information. This includes a list of paint colours required in Revell's colour range but nonetheless helpful.
There are also some great close-up photographs on the box sides, showing a made up U-Boat featuring some good weathering. There's also a little potted history in four languages and some details on the models size; 95cm – awesome!
Accuracy
The only reference I have on this U-Boat is the well thumbed Squadron Book U Boats in Action. Consequently, whilst it looks good against this single reference, I'll reserve further comments until I have further reference material.
Fit
A dry run shows parts fit well and have minimum flash.
Quality
The plastic is good quality, hard and crisply engraved with fine panel lines. The plastic looks like it will be good to paint and the examples I have seen at shows bear this out.
The one piece hull is a superb piece of moulding. At nearly a metre long, it will make a great looking kit and evokes memories of the fun I had making the S-Boat which was a similar size!
Despite the large size of the moulding, there's no warpage and the fit is good. I am really impressed with the quality of Revell's ship kits and this is a really first class example.
Figures
This packaging comes with a healthy supply of crew figures. They are moulded quite well, although some of the detail is a bit soft.
Decals
The decals are well printed, good colour and in register with some really excellent and colourful choices.
Other additions include the little skein of fine cotton for the rigging, which is a nice touch.
Instructions
These are very familiar in the usual Revell style. Not the best by any stretch but clear enough.
Summary
This is a wonderful looking kit from Revell. I think also it is excellent value for money and I highly recommend it.
| FEATURE | STAR RATING (out of five) |
| --- | --- |
| Quality of moulding | **** |
| Accuracy | *** |
| Instructions | *** |
| Decals | **** |
| Subject choice | ***** |
| Overall | **** |
Les V.