Price: £39.99 (May 2012)
Materials: Plastic and Etch steel
Review by: Les Venus
References
Shipcraft No 15 – Queen Elizabeth Class Battleships by Les Brown
Peter Hall of White Ensign Models with sincere thanks
Videos from You Tube (below)
Wikipedia (yes it's a good entry) http://en.wikipedia.org/wiki/HMS_Warspite_(03)
Background
As those of you that regularly read my drivel (I thank you sincerely) will know, I am now a dedicated ship modeller with an occasional foray into WW1 aircraft.
You will also know that my last ship build was the immense, in every way, USS Arizona.
Well, the planned build of HMS Warspite will in some ways combine both, in that you will see immediately the similarity between this Queen Elizabeth Class Battleship and the Dreadnaught Class ship that was Arizona.
Warspite carried a Walrus which is a bi-plane, so this model had 'build me' all over it and when the Editor gave it to me complete with WEM Brass etc and the Reference book at last year's IPMS Scale Modelworld, I grabbed it eagerly and was looking for the exit to get home and get cracking.
In the event, the build will come along in due course when we can free up some much needed workbench time, but until then you'll have to make do with this Here Now review of what's on offer in the box!
This has been a long awaited kit and, despite being new, I have seen one built by my ship-building hero Kostas Kateas which is simply breath-taking and will be some act to follow.
Take a look at the YouTube references within this review and indeed the Wikipedia entries, they are excellent. Also worth a look is the book (above), which I review elsewhere in your SMN, as well as the superb WEM Brass etch set designed by Peter Hall.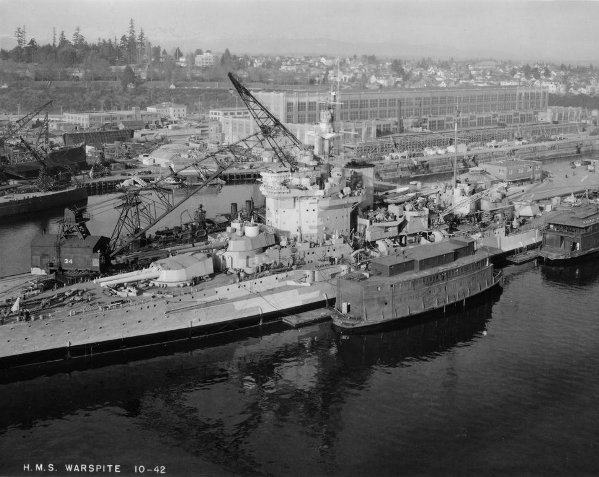 So what do you get then?
The lid and tray style box is typical Academy and is robust and well able to protect its contents. The lid is decorated with a pleasing and evocative painting which will attract even the casual buyer.
It's no Tamiya, but it's better than Trumpeter and Revell in this respect.
The sides have some nice detailed pictures of a completed model, which again is adequate. It does rather show off the stand that is included in the kit and is a nice touch.
Instructions
I have had snags with Academy instructions in the past, but these look straightforward and adequate. The down side is a lack of a rigging diagram, which I feel is a big oversight in a ship model.
Painting details for the main camouflage are nowhere to be found and I assume these are what the box sides are for. This, in my view, is unacceptable.
Going Inside…
The sprues are all held inside nice polyethylene bags and is full but not overly, which again bodes well for the contents.
On top are the two hull sides and here is my first big disappointment as there is no option for producing a waterline model without dramatic surgery: Check out my KGV Build in SMN to see where that got me last time!
This aside, the parts are robust and well detailed with the scuttles (Portholes to you landlubbers) having eyebrows. There are no panel lines, but in this scale that's ok as anything would be over-scale. Like the Arizona, the relief detail will dry-brush well.
Detail parts have some finesse about them and the plastic feels heavy and has a quality feel about it. Sprue gates look ok and mostly in the right place evidence of slide moulding is in place, which explains the finesse of parts.
Notable are the hollowed main guns and even the plastic chain with careful painting is very useable. I was impressed too with the paravanes which normally are shapeless T-shaped things; in this kit they are beautiful.
The main superstructure is well detailed and again scuttles and such like will look great washed and dry-brushed.
The Deck…
I am delighted that HMS Warspite had a teak deck, so I'll really enjoy painting that.
Indeed, as a diversion here, I was asked at the 'Nationals' goodness knows how many times how I fitted the "real wood" decks on my Arizona and Bismarck, testament indeed to the process I detailed in my builds of each and that I will again use here.
Julian Seddon is also building a Warspite, but he will be using a real wood deck and brass turned barrels so you will for the first time be able to compare and contrast our process and finished results. Gulp!
The deck is beautifully detailed with planks clearly shown including end plates. I am excited at the prospect of this one.
Turrets…
Main turrets look good but will be enhanced by my WEM brass so a good start here by Academy.
The Stand…
Academy provide a plastic multi-part stand that can be painted gloss black and brass and might look good.
I won't be using it, so see how I do with my choice during the build. All I can say is that I will be consulting my base guru Bill Curtis on this one.
Detail Parts
The detail looks good on the sprue and all looks useable especially the boats, Walrus aircraft and Oerlikon guns. The boats themselves having planking on their decks so yum-yum!
I am impressed too by the super detail on the 8-barrel Pom-Poms that are up there with resin; well done, Academy.
Etch Steel
The etched cranes are lovely and will enhance the model, but that's all you get so to finish the job you will need etch rails. WEM to the rescue.
Decals
The decals are ok so far as White Ensign's are concerned, but the decals for the Walrus are unusable being the wrong style and out of register by some margin.
Accuracy…
For a 1943 version of Warspite it looks ok, but I need to study references closer. I feel some of the launches are not used in this period, but I will reserve judgement for now.
It looks like Warspite and as such I will at this time give it the benefit of the doubt.
Summary…
This is a good kit, maybe even a great kit and exceptional value for money.
The poor painting instructions, decals and full hull only are weaknesses but overall I am looking forward to this build.
Recommended.
| FEATURE | STAR RATING (out of five) |
| --- | --- |
| Quality of moulding | ***** |
| Accuracy | *** |
| Instructions | ** |
| Decals | ** |
| Subject choice | ***** |
| Overall | *** May improve in building! |
Les V.