Review by: Jamie Haggo (April 2012)
Our thanks to White Ensign Models for supplying the review sample.
I have always wanted a model of the Type 23 Frigate.
In my naval career I have served in a number of them, however because they are not "sexy" or numerous then manufacturers have steered clear, which is a shame as I think they are good looking vessels. But, then again, I suppose I am a bit biased.
So far, I have served as a Lynx flight pilot or Flight Commander in the following: HMS's Montrose, Argyll and Somerset and have deployed to the Mediterranean on Maritime Security operation Op Active Endeavour, the Northern Arabian Gulf on Op Telic, counter piracy off Somalia on Op Calash and a far east deployment with a littoral battle group Op Taurus.
In that time I have been all over the world and as the old saying goes, I have worked hard and played hard.
I like serving in these vessels; they are comparatively lean manned with a Ship's company of just over 180. That means it is a close knit group and, with a new ship, very quickly every face becomes familiar (I'm rubbish with names!).
They may be small but they certainly pack a punch with Harpoon anti ship missiles, Sea dart SAMs, Stingray torpedoes, 4.5 inch main gun, 30mm cannon, 7.62 mini guns and GPMGs, not to mention a helicopter, usually a Lynx however they often take a Merlin.
Not only that, the deck is open and continuous, so it's possible to run right round the deck, 7 laps equal 1 mile; good news for the fitness freaks.
With anti-radar in mind (I think stealth is a step too far!), the decks are sloped so to avoid injury over a 7 month deployment the running direction is revered every day.
Talking of Merlins, the Type 23 and the Merlin were designed in parallel; the Type 23 was conceived in the cold war as an Anti Submarine Warfare (ASW) Frigate designed to hunt in the GIUK (Greenland, Iceland, UK) gap.
Although I am hugely biased and think that the Lynx is the World's finest small ship attack helicopter, I have to admit the Merlin is a fabulous MPA (Maritime Patrol Aircraft) and ASW platform.
Coupled with the Type 23's active and passive sonar, it really is a world beater. I could tell you about some of the detection ranges we got on my last deployment but a: you wouldn't believe me and b; in the words of Maverick in Top Gun; they are so secret I'd have to kill you!
Now for some holiday snaps which my Observer and I took on various deployments!
HMS Argyll
This is HMS Argyll during our Op Telic deployment way up in the NAG (Northern Arabian Gulf).
The main mission was to protect the 2 Iraqi oil platforms whilst training the Iraqi Navy to take over the job. Over 85% of Iraq's oil exports come out from here and the most northerly is less than a mile from Iranian territorial waters.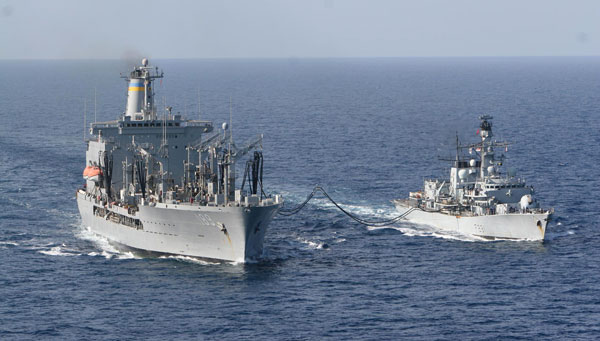 HMS Argyll RASing from a USNS tanker off Somalia. RAS stands for replenishment at sea, here you can see the refuelling lines between the ships.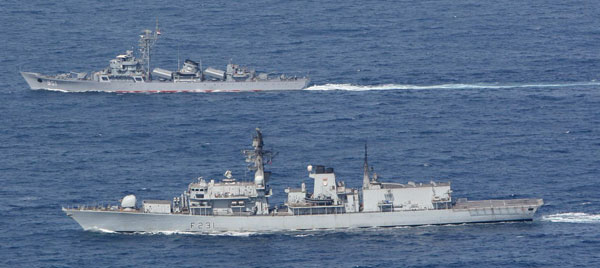 Most deployments allow what we call "wider regional engagement". In other words, working with foreign navies in this case the Egyptian Navy.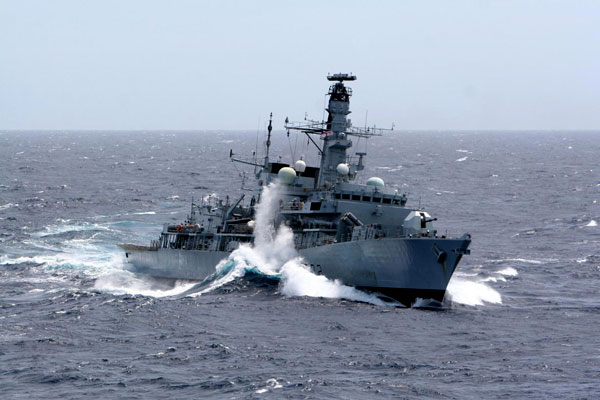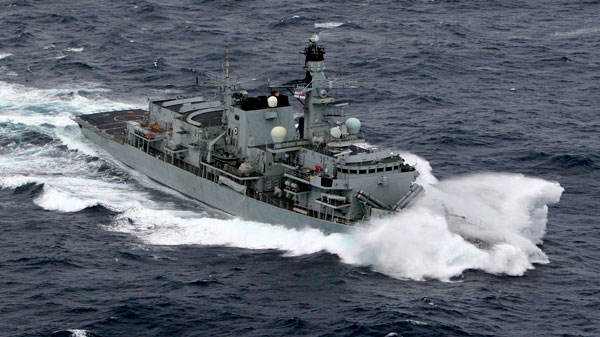 HMS Somerset battling through the Indian ocean during the Monsoon. This is a relatively quiet period for piracy as you can imagine but it still goes on so there is still a requirement to carry on normal operations.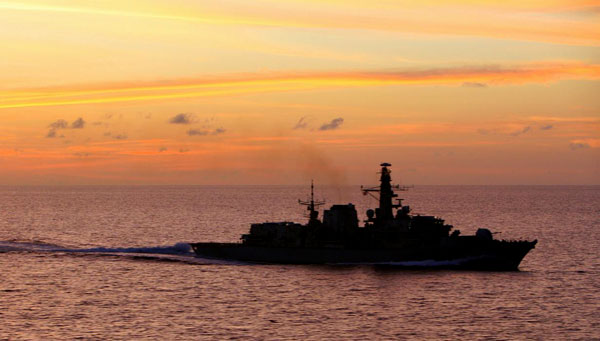 This was taken in the South China sea, the sunsets out there were stunning, as were the thunderstorms!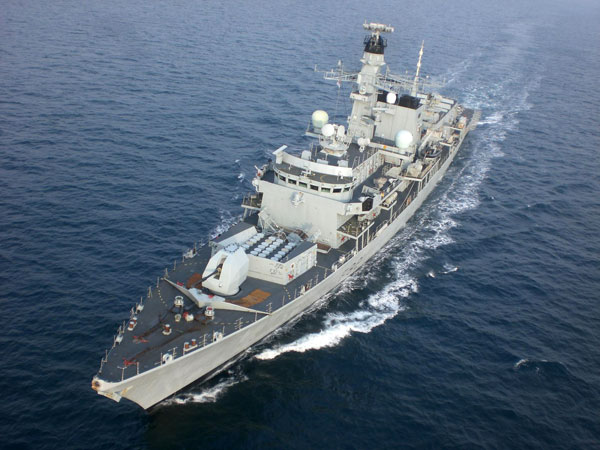 This shot was taken during a deployment work up period in UK waters off Plymouth.