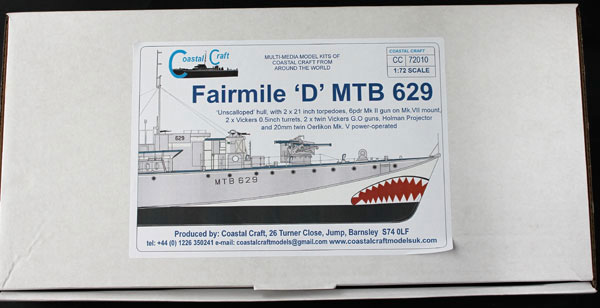 Price around: £175.00 GBP (Nov 2014)
Review by Julian Seddon
A little bit of background about the type
The Fairmile boat company was named after the part of the village of Cobham where Sir Noel Macklin lived. He was known at first for his design and manufacture of the Railton and Invicta cars.
He started the boat company in 1939, but ran out of capital and effectively became part of the admiralty producing hundreds of MLs, MGBs, MTBs etc.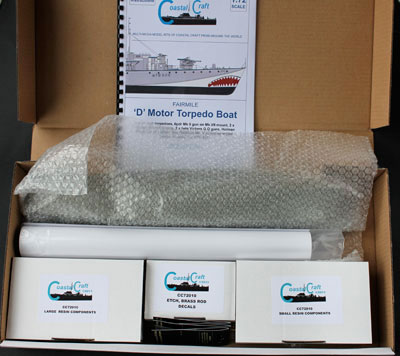 The "D" spec boats were built in basic form and then adapted for use as the above types.
There is a pretty comprehensive history of the craft bound into the instruction booklet for all to read before commencing construction.
The Kit…
This comes in a sturdy box and all the components are well protected and should endure the vagaries of transport without a problem.
The most obvious pieces in the box are the hull and deck, these are made over-length and have to be trimmed once glued in place. A quick test fit shows that these go together very nicely.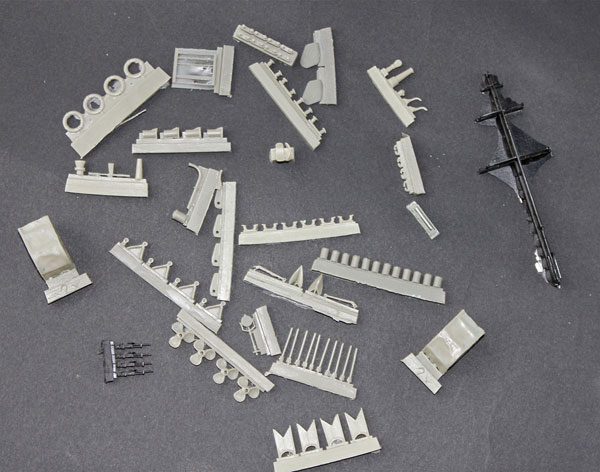 ZOOM - Move your mouse over image
The box marked "Small Resin Bits" contains 2 plastic bags containing lockers, rowing boats, lifebelts and many other small pieces as shown in the pictures. These are well cast on solid resin blocks, some of which will have to be removed with care.
The mast is a resin part that does not look distorted as it is cast in a form of brace to keep it straight.
The majority of the small brass sheets are in the box marked as brass, rod, decals etc. These sheets are clearly marked with the part that they represent and all these parts are finished with the plastic and brass rod supplied.

The decals are clear and clean (I just had not wiped the lower of the shark's teeth). This is not a major decal exercise!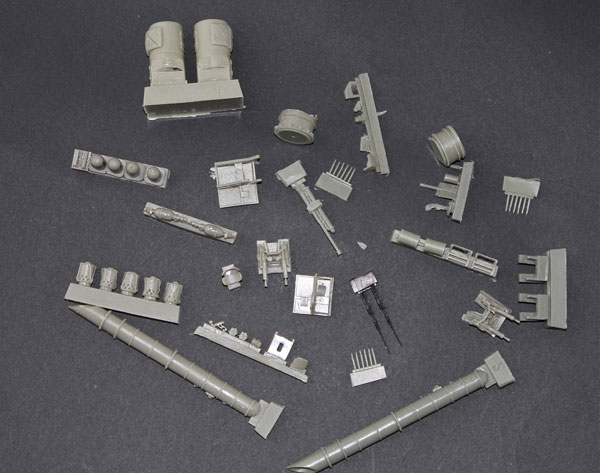 ZOOM - Move your mouse over image
The final box has the torpedo tubes and other armaments in it. There are torpedo heads to insert into the tubes. Once again well cast with only a small amount of clean-up necessary.
In this box is also a brass stand with separate assembly instructions.
Gallery Grid of Fairmile instructions

The instructions are a massive improvement over the ones for the Vosper I made a couple of years ago. Each section is clear and the photos of each component to be built are logically laid out ☺.
All in all this should be a pleasure to build and I am looking forward to another marine subject.
Julian S.
SMN Quick summary Star rating out of 5
| FEATURE | STAR RATING (out of five) |
| --- | --- |
| Quality of moulding | **** |
| Accuracy | **** |
| Level of detail | **** |
| Instructions | **** |
| Decals | **** |
| Subject choice | ***** |
| Overall | **** |
A note from Geoff…
So, depending on when you read this Here Now review, Julian may have started his build, and you can follow that every step of the way in Build Now. Or, if it's finished, you'll find a link to Julian's completed model build in Finished Now and the
Coastal Craft Finished Maritime Reviews
that has the finished builds we have completed of their maritime kits.
There's also a video review that I've done for the Coastal Craft Models publication: Vosper Motor Torpedo Boats that's well worth investing in.
I know we're in for a treat having followed Julian's build of the CC Vosper 72ft MTB in 1:72 (that Julian refers to above). Here are two photos of that build that you can find in Finished Now under Maritime – Coastal Craft.