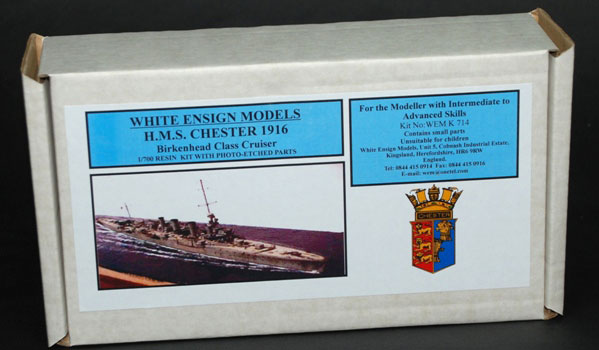 KIT Ref: WEM K 714 (waterline series)
Review by Geoff Coughlin (Nov 2013)
Price around £48.00 GBP
Our thanks to White Ensign Models for supplying the review sample. Get this kit here now at: www.whiteensignmodels.com
Luckily you have a stunning build from Ian Ruscoe to look at to see how well this model builds up. You will also find Ian's build in your Maritime area of the SMN Subscribers' Gallery, but here are Ian's photos to show you what the model looks like all built up and set in a seascape. Nice work Ian and here's what he has to say about his build..

HMS Chester, Battle of Jutland by Ian Ruscoe
The model is HMS Chester a 6-inch cruiser of the First World War has she appeared at the Battle of Jutland on 31st May 1916. The kit is one of White Ensign Models own kits in 1:700 scale and was built pretty much out of the box with the exception of the figures which came from Gold Medal Models.
HMS Chester was a 4-stack Birkenhead class cruiser and is depicted as she looked at Jutland, where the 16 year old crewman Jack Cornwell's refusal to leave his post when badly wounded won him a Victoria Cross at the cost of his life.
The kit is highly detailed as you would expect from this manufacturer; no fit issues were encountered and for a full write up on this build I will be submitting it to Geoff for inclusion in SMN in the future.
Ian R.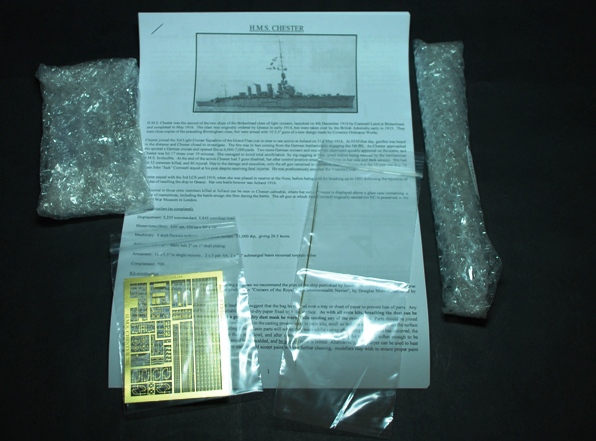 The WEM package
You get a sturdy card box with all the resin and etched metal parts packed securely to avoid any chance of damage as you can see here.

You can see here that the main hull and superstructure is moulded as a one-piece resin mould and this looks pretty good at first inspection. You will have to drill out the funnel interior but this is hardly a chore and much time will be saved with the main 'build' already supplied. Smaller parts like the ship's boats, floats and guns come in a separate bag and look well detailed, especially for this small scale.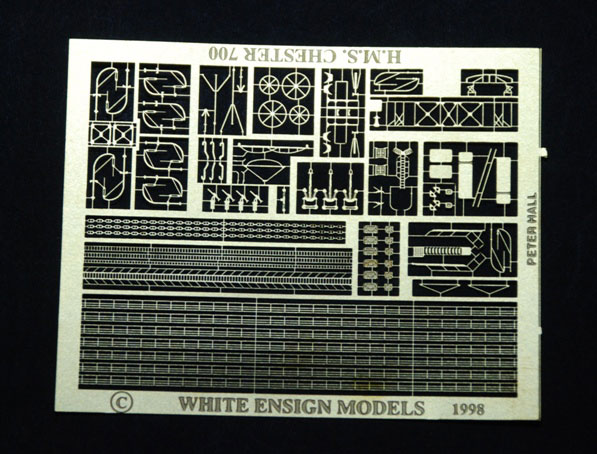 Photo etch
The package is pretty much complete with the inclusion of PE for the rails and many other small refined parts. Two short lengths of brass rod are also included to help you with construction and finer detail. Personally I think that PE is a must on any ship model that had deck rails and the like and when you add them, boy does your model step up a gear or two.

Instructions
All in the familiar WEM style – the small drawings and colour profile will help you to locate everything accurately and I would also take a look (or several) at Ian's model as this shows just how and where to add anything you may be unsure about.
Conclusion
I rate this model highly and I know that Ian (who knows far more than I do) rates it highly too, and others in the WEM waterline series.
Highly recommended
Geoff C.
SMN Quick summary Star rating out of 5
| FEATURE | STAR RATING (out of five) |
| --- | --- |
| Quality of moulding | *** |
| Accuracy | **** |
| Instructions | **** |
| Decals | *** |
| Subject choice | **** |
| Overall | **** |