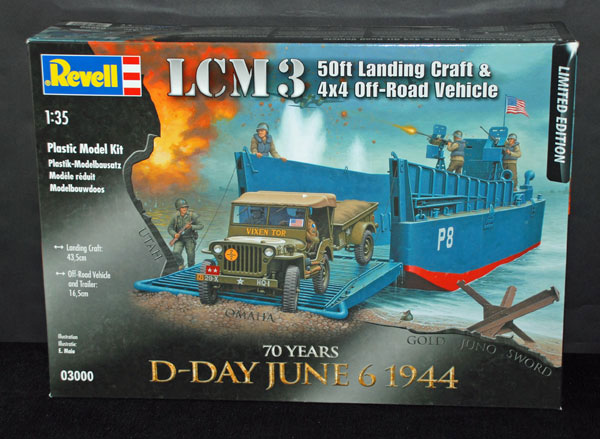 Kit Ref: 03000
Price around £59.99 GBP
Review by Geoff Coughlin (April 2014)
Revell model kits are available from all good toy and model retailers. For details visit www.revell.de/en, @RevellGermany or facebook.com/Revell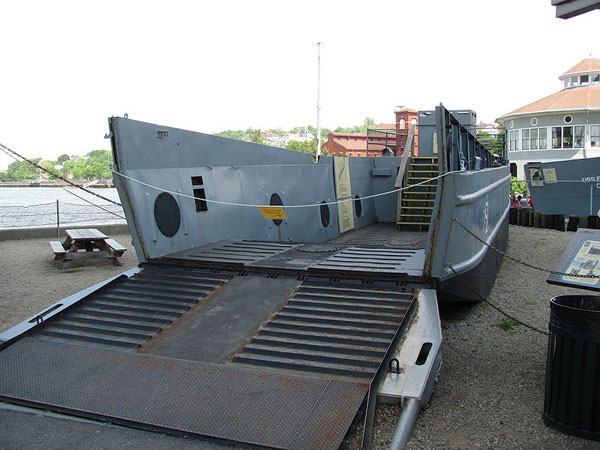 A little bit of background
There were two designs:
BUREAU
Capable of carrying 120,000 lb (54,000 kg) of cargo.
Higgins
The builder, Higgins Industries, was also responsible for the LCVP. In appearance very similar to the LCVP with a 10-foot (3.0 m) wide load area at the front and a small armoured (1/4 inch steel) wheelhouse on the aft decking over the engine room. A Higgins LCM-3 is on display at the Battleship Cove maritime museum in Fall River, Massachusetts.
Displacement: 52 tons (loaded); 23 tons (empty)
Length: 50 feet (15 m)
Beam: 14 feet (4.3 m)
Draft: 3 feet (0.91 m) (forward); 4 feet (1.2 m) (aft)
Speed: 8 knots (9.2 mph) (loaded); 11 knots (13 mph) (empty)
Armament: two .50-cal M2 Browning machine guns
Crew: 4
Capacity: One 30-ton tank (e.g. M4 Sherman), 60 troops, or 60,000 lb (27,000 kg) of cargo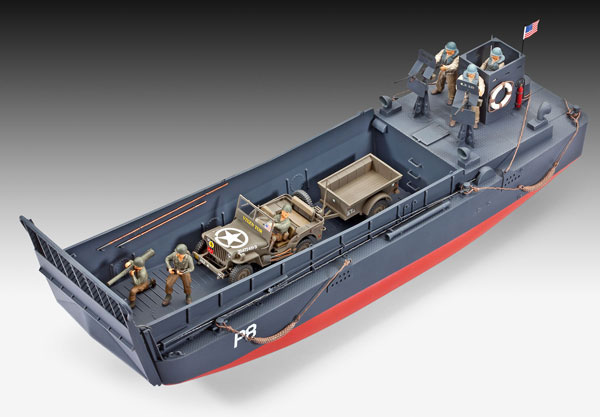 The Revell kit
This kit may be new – frankly, it's hard to tell and that in itself is no bad thing – I couldn't find any date stamp on the moulds as is usual, suggesting that the model may originate from another source. Frankly, that's irrelevant really. There is quite a bit of excess flash plastic on most of the parts that will need careful removal. This is what you get in the large box:
Landing craft inclusive of Off-Road Vehicle and trailer
Includes 6 figures
Structural details on surfaces
Movable bow ramp
Detailed stand
True-to-original reproduction of propelling screw
Two movable MG mounts
Numerous accessories such as fuel drums and life buoys
Decals for the following versions:
LCM3…
– U.S. Navy, Operation Overlord, invasion of Europe, D-Day June 6th, 1944 Normandy
(France)
– Royal Navy (GB), Operation Torch, Invasion of Algeria (N. Africa), Eastern Task Force, Apple
Beach , November 1942
4×4 Off-Road Vehicle…
– Vixen Tor, Vehicle of Maj. Gen. C.H. Gerhardt, Commander of U.S. 29th. ID Blue and Gray,
D-Day June 6th, 1944, Normandy (France)
– Royal Navy, Personal Vehicle of Rear-Admiral, Royal Navy Depot, Portsmouth (Great
Britain), 1944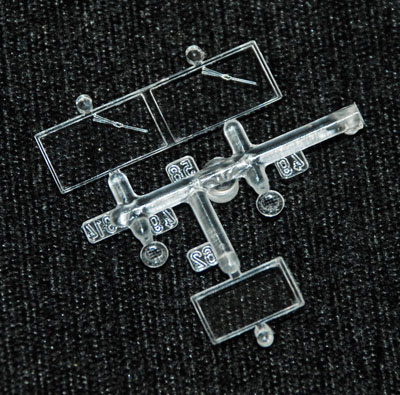 Other observations
Generally the parts are well moulded although some of the sprue gates connecting to the parts are a bit big and will need careful removal. Nice touches I feel that stand out plus a couple of other observations are:
the tread plate pattern and how this is moulded
crew figures – pretty impressed with these – realistic and refined
inclusion of .50 cal MGs – the fact they are included is good although they would benefit from adding brass gun barrels and other small PE items
inclusion of a decal for the boat house instruments may not please all in this scale
the 4 X 4 off-road vehicle certainly looks like a Jeep to me and is pretty well detailed with finesses to the detail like the wheel hubs for example
clear parts like the windscreen on the Jeep are clear and blemish-free
inclusion of a trailer for the Jeep is a good touch that helps to fill the large expanse of hull.
Instructions
This comprises a fold-out sheet with exploded diagrams showing where all the parts go – clear enough. The models should present few, if any problems to modellers with just a little experience.
Decals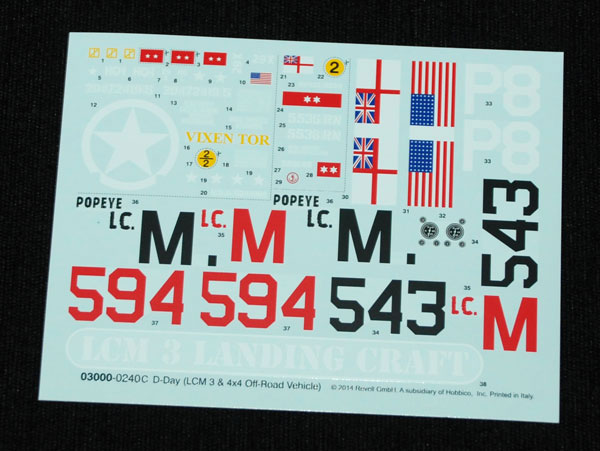 Revell include a decal sheet with appropriate markings for US and RN vessels. Colour is solid and strong with no items out of register, just remember to apply them onto a high gloss finish and then matt down as appropriate to reduce any chance of decal silvering.
In conclusion
Fine really for the money and size of model although some may feel that the price is a bit steep. Plenty of people buy and make models in this scale and you will have another type to add to your collection although your LCM 3 is crying out to be displayed in a realistic D-Day Landings or other period setting.
SMN Quick summary Star rating out of 5
| FEATURE | STAR RATING (out of five) |
| --- | --- |
| Quality of moulding | *** |
| Accuracy | *** |
| Level of details | *** |
| Instructions | *** |
| Decals | **** |
| Subject choice | **** |
| Overall | *** |