2" Rocket Flare Projector set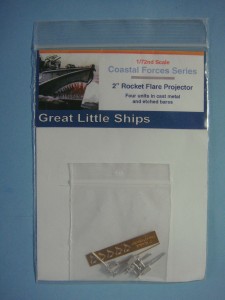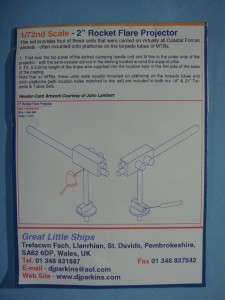 Our last set for review is the 2" Rocket Flare Projectors. These were common on most Allied vessels regardless of size. They are often mistakenly modeled as machine guns, as is the case with the Airfix MTB, so this set gives you the real deal.
Inside is a single small fret of brass detail and white metal castings of the projectors and mounts.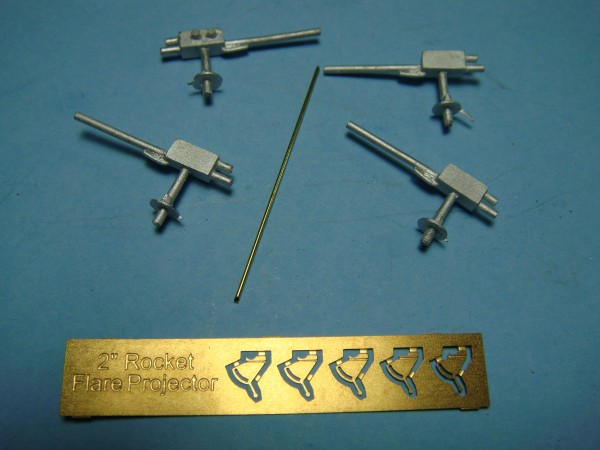 Conclusions
All in all, this is a fantastically detailed series of complete replacements for kit parts or additional details to enhance your Coastal Forces subject. There is no doubt a lot of time, effort and care went into researching and accurizing these sets.
Both the quality of the brass etch and white metal castings is consistent throughout, as are the clear and concise instructions and diagrams. I especially enjoyed the narratives, but do miss having any guidance of colour painting options.
With the back of the A4 exploded diagram sheets blank, wouldn't it be nice to have perhaps a colour guide and maybe even some archival photo references?
Highly recommended.
| FEATURE | STAR RATING (out of five) |
| --- | --- |
| Quality of moulding | **** |
| Accuracy | **** |
| Instructions | ***** |
| Value for Money | **** |
| Subject choice | **** |
| Overall | **** |
Mick S.
Footnote
As a footnote, Great Little Ships continue to expand their range of Coastal Forces sets; in the pipeline are detailed deck sets for the Vosper MTB Type 1 and Type II boats, conversions to MGB's and full kits of the Fairmile D (Dog) boats. Keep your eyes open for these exciting additions to the fleet.
Meantime, watch out for the Build Now feature article of the Airfix MTB, where you'll see all these 'bits' put to good use. I hope I can do them justice.
Here are Great Little Ships contact details:
Website: http://www.djparkins.com/acatalog/Great_Little_Ships.html
Address: David J. Parkins, Trefacwn Fach, Llanrhian, St. Davids, Pembrokeshire, SA62 6DP, Wales.
UK Telephone: 10.00am-6.00pm Mon-Sat – 01348 831887 Fax – 24 hour  – 01348 837542