The Hull and Deck
The 2-part hull and deck are in a buttery coloured resin and have some small moulding blocks, but the detail is crisp and it all screams 'build me' when you handle them.
Martin did warn that the deck is slightly longer than the hull, but a bit of trimming would resolve this; the idea is that when the moulding blocks are removed the deck and hull fit together pretty well.
A nice resin block stand is included, but I have something in mind more fitting for this super kit. It will make a good resting block during construction.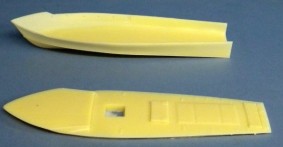 Smaller Resin Components
The larger of the two boxes inside the main box consist of 'smaller resin components'. The box includes a super little brass etch set, with some exquisite detail reminiscent of White Ensign Models.
The main, and for me most exciting, feature of MTB's are the torpedo tubes. These are produced in resin, with separate torpedo heads to pop in the end. Can't wait to get the Alclad out for these!
The bridge unit is next, with a small clear window included elsewhere in the package. Last but not least is the twin Vickers K Gun turret, which is also superbly moulded.
The Final Box
The final box contains a raft of small white metal components: some masts, bits of brass rod and a small decal sheet for the one option in the kit, that of Cdr Dickens.
Summary
This kit has a feeling of a project of love and it shows in what's in the box.
I have seen one made up that is hugely impressive and I am going to give this kit a lot of time and attention in my upcoming build, which is what it deserves. I am so looking forward to it.
As I recall, the basic kit retails for about £90 which I think, even in these austere times, represents good value for money. As I said I am going to give this one the works so watch your SMN for it.
Highly recommended.
| FEATURE | STAR RATING (out of five) |
| --- | --- |
| Quality of moulding | ***** |
| Accuracy | ***** |
| Instructions | **** |
| Decals | **** |
| Subject choice | ***** |
| Overall | ****½ |
Coastal Craft Models Contact details
73 High Street
Wombwell
South Yorkshire
S73 8HS
01226 345635
coastalcraftmodels@gmail.com