Sprue A – Fuselage sides…
The fuselage is a sublime piece of moulding with finely and appropriately engraved panel lines with a really excellent rendition of riveting. No need for Rosie on this one. Not since the last Wingnut Wings kit have I had that "build me now" screaming in my head; this is a kit that genuinely excites me and I already love it.
Ok the downside. It's only a relatively small point but like all the other Chinese based model manufacturers those sprue gates flow onto the mating surfaces of the part. It's not a showstopper but can be annoying especially if you miss one during assembly. As such be sure to dry fit before gluing!
Sprue B/C – Wings…
The wings like the fuselage are beautifully moulded with wonderful engraved detail and again fabulous rivet work. Separate flaps are included with some nice detail but I can see Eduard picking up this very soon!
Sprue D – Engine/main undercarriage housings…
Both 'cowlings' are on this sprue as well as some small component parts related to this element of the build. Again detail is excellent and sprue gates are small but the issue about mating surface overlap occurs on this and all other sprues.
Sprue E – Wings elevators and tail fins…
Nothing much to say here except that detail is great and rudders and elevators are separate but without any gimmicky etch brass to over complicate things.
Sprue F/G – Glazing…
The glazing is probably some of the finest I have ever seen in a kit. It's crystal clear and framing is to scale. This will paradoxically make painting with masks a bit tricky without dye-cut masks but nothing an experienced modeller couldn't handle. The lift-out top panel on the main canopy is not an option which is a bit of a shame but seeing inside the cockpit will not be a problem.
Sprue H – Bomb aimer position…
This covers the bomb aimer navigator positions and the detail there is really lovely and will respond well to careful painting, washing and dry brushing. I do feel though that soon we will be seeing Aires resin sets for this kit that will simply be breathtaking. This is a kit I feel sure I will build more than once! (I have just spoken to 2 other guys on the SMN Review Team that couldn't wait and have just bought this kit!!, so expect to see more builds in SMN – including an Olive Drab finished machine! Geoff)
Sprue I – Rear Gunner station…
This covers the rear gunner's station and includes the trays for the 50-cal ammunition belts. Again I can see Eduard going to town in here!
Sprue J – Undercarriage…
This covers the undercarriage which is wonderfully detailed and looks quite robust. I am though not sure that the nose wheel leg in particular will be up to the task of supporting what will I feel be over a 100g of weight in the nose to prevent tail-sitting on this model. Metal (brass as used by Fisher Models would be best) or white metal perhaps. I will be using SAC Models replacement white metal set but in truth these are poor representations of the legs and will need some work to make them as good as the plastic parts. Still I am up for that.
Sprue K/L…
Nothing to say here, except well done HK.
Sprue M – Cockpit and bomb bay…
All this will be seen through the crystal clear canopy and the optional open bomb bay; good detail is imperative and HK don't disappoint; well almost. The main instrument panel is super but requires the use of a decal for the instruments. The decal looks poor but to be fair I haven't tried it yet. My thinking is that this is an element that will need some aftermarket help from Eduard, Aries or MDC's decal instruments. I'm being picky as I feel sure it will all look great but as I see it won't be as busy as the real thing so some extra work will, with the right references, be needed.
Sprue N – Main wheels…
The wheels are flattened and have tread pattern but this is a little short of where it should end on the wheel and leaves them looking a little devoid on the side walls. Not a huge issue but could do better here.
Sprues O/Q/R – Engine/Cowling Panels…
The two Wright R2600 engines are simply sublime. As those of you that read my stuff in SMN will know, I am a sucker for a good engine build. On this kit there are two to get suck into and my intention is to leave at least one of them with the separate cowling covers (Sprue Q) off. It will be interesting to see how these panels will fit, my feeling is well but I will wait and see.
Sprue P – Bombs and guns…
The bombs are quite good and will look good painted and weathered in their bomb bay. The 50-cal guns though are poor. The guns are solid and cooling jackets are unconvincing. I will be replacing these with brass items from Master Model; given there are 10 guns on this aircraft its key to get the look right. I used Master 50-cals on my Dauntless and they are sublime.
Sprue S – Cowling rings…
The cowlings and cooling gills as well as panel frames are moulded as two really excellent parts that should enable pre-painting prior to fitting the engines and attachment to the fuselage. I am looking forward to working with these.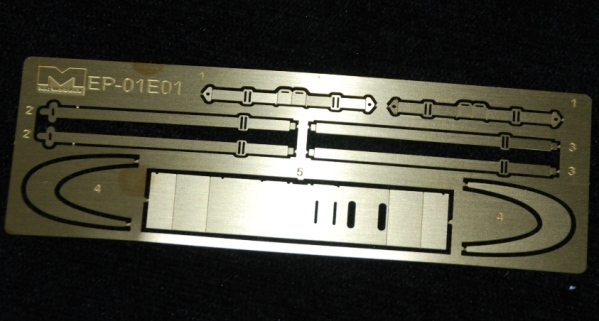 Etch Brass…
There is a small brass sheet which is very Trumpeterish and mainly comprises the seat belts. They are adequate at best but no more so and I hope Eduard steps up here very soon.
Schemes and Decals…
Now the big downside to this otherwise super kit. When Wingscale announced the kit in 2008/9 it was to include Cartograf decals for 3 or 4 schemes at least one (the famous "Finito Benito Now Hirohito" natural metal scheme). This HK release includes the scheme on the box lid which, shark mouth aside is really very dull and utterly uninspiring. Worse is that the decals only comprise the main markings. These look thick, poorly coloured and not in keeping with the quality that exudes from the rest of the kit. For a kit retailing at £143 I would expect at the very least stencils to go with the scheme and as yet as no one else is producing B-25 stencils it will look a bit bare once built.
I will be using Zotz decals for my build and a NMF to boot as I feel that the B-25 looks at its best in this scheme. I hope that more releases are out soon so if anyone is listening let's have some stencil and placard sets please.
Summary…
HK is a new manufacturer and they have released what may well be the definitive B-25 in any scale and on that they should be commended, congratulated and supported with our cash. I have tried to give an un-jaundiced view of this kit and pointed out what after all are just a few areas of minor weakness. I hope that I haven't been nit-picking as this is not my style but I am deeply disappointed with the scheme selection and the decal sheet is very poor. On any kit in the mainstream this falls way below reasonable expectation and I hope is addressed on the next HK release.
I do feel that despite this, the kit will sell in buckets. How many will actually be built I am not sure but in SMN I suspect that alongside mine, you may well see Messrs Coward and Seddon offering their usual show stopping builds of a kit that will be like nectar in their hands. Meanwhile, I will give it my best shot and try and do justice to a kit that deserves nothing less.  Overall I have to give this excellent kit a huge thumbs up but with the reservations I have highlighted it is not another 5 star kit but is I feel very worthy at this stage at least of 4 stars.
Highly Recommended
| FEATURE | STAR RATING (out of five) |
| --- | --- |
| Quality of moulding | **** |
| Accuracy | **** |
| Instructions | **** |
| Decals | * |
| Subject choice | ***** |
| Overall | **** (may improve in building!) |