Sea Harrier FRS-1
Some of the parts are delicate and an example is the option for a deployed IFR probe – I think this is a superb bit of tooling and moulding. The outrigger stabilising wheels are another example and with careful handling and painting the finished model will look very good. There are weighted tyres that look good, as does the precise detail on the wheel hubs. Further examples of great, delicate moulding are the lovely AIM-9L/M Sidewinder AAMs and control column in the cockpit.
Moving into the cockpit, this is well detailed allowing for decals to be used for the main instrument panels and includes a control stick. The MB ejection seat is a decent scale replica, although you can add a harness to enhance it further. The rear decking is good for the scale.
The ventral air brake has detail on its inner face and will look good is displayed in the familiar drooped position. No option this time for separate flaps and quality goes on into the main gear bays that are detailed too.
Clear parts – both kits
Usefully the front windscreen is moulded separately to the rear portion that can easily be displayed open – nice touch in this scale.
Instructions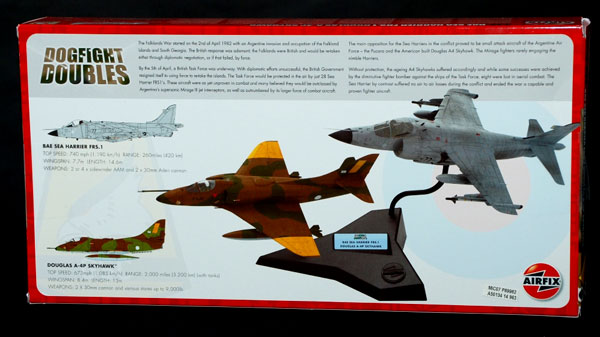 These follow the usual exploded stage diagrams and are clear and straightforward. Some good advice is given about the optional intake rings and the open/closed square doors so typical of the Harrier; check out the reference images and you'll see what I mean.
Decals
These look good quality like those we are getting used to now from the manufacturer – just ensure that they go onto a gloss surface and then spray (or paint) gloss varnish over the decals once dry before applying your chosen varnish/finish. I say this because I have been caught out with the slightly matt texture of the decals looking far too obvious if your apply the varnish directly onto them; just something to bear in mind!
Quick summary Star rating out of 5
| FEATURE | STAR RATING (out of five) |
| --- | --- |
| Quality of moulding | **** |
| Accuracy | **** |
| Instructions | **** |
| Decals | **** |
| Subject choice | ***** |
| Overall | **** |
Airfix has done a great job with this package, it embodies so much of what we hoped they would achieve going forward and sets a high standard that we will expect to see in all they do going forward. And to see the Dogfight -Double package back is just great – especially for those of us old enough to remember these sets when they were first released. Their 4-Star rating above overall sums it up!
Geoff C.