Kit Ref: A02074
Price around £9.99 GBP, $13.12 USD, €10.90 Euros, $16.23 AUS, $15.89 CAD
Review by Geoff Coughlin (September 2017)
The Airfix kit
Long may this 'policy' of releasing new-tool kits of iconic Airfix types, kits and subjects continue. This time we've got a lovely little Grumman Martlet/Wildcat. On an entirely personal note, I just love the type – its dumpy appearance giving it, for me at least, a hugely appealing nature which is why I am going to build this one – with a difference!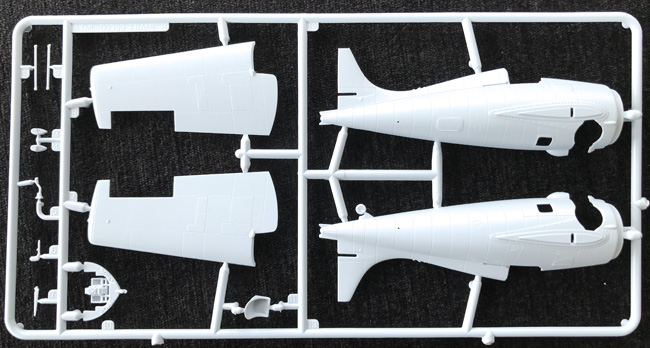 What do you get?
You can see the sprues as well as I can so take a good look at the images and I think you'll be pretty pleased. The aircraft is necessarily simple and straightforward in 1:72 scale. All you may feel you want to add is some extra detail in the cockpit as this area is very visible, especially if you have the two-part canopy slid open.
Let's start with the plastic
The plastic is just like the manufacturer's other recent releases – slightly soft yet well-tooled light blue-grey parts. Panel line detail is scribed and well done for the scale. No real excess flash is apparent, especially on many of the smaller, delicate parts.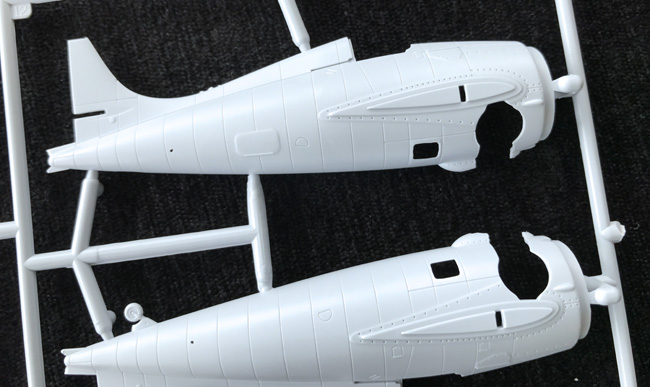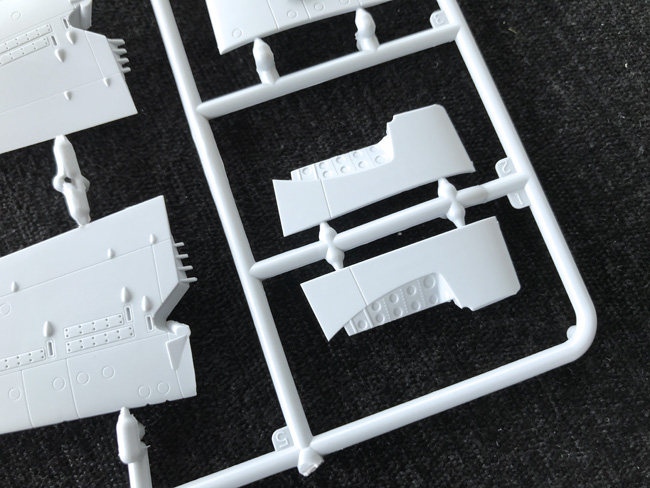 Parts breakdown is pretty conventional for a Wildcat/Martlet kit in this scale.
Fuselage – general shape looks very authentic and you get a choice of cowls to make different versions of the type. I have cut the fuselage halves from their sprues and test-fitted them and they fit very well. There is some internal cockpit detail moulded onto the side walls.
Main wings – separate upper wing halves split in two horizontally and attaching to the one-piece lower wing section. An excellent option included is the provision of a straight-wing allowing you to build your Wildcat/Martlet with the wings spread or separate sections to show your model with wings folded – impressive for 1:72 scale.
Flaps/elevators – outer wing elevators are provided as separate items, so you can pose them as you like. A subtle fabric-effect is moulded into the elevators.
Rudder – The rudder is moulded separately so that you can add some interest by slightly offsetting it if required.
Cockpit – This is going to be perfectly fine for many modellers; you get a representative seat and good cockpit instrument side console detail. You need to add a seat harness which is fine by me and usually better than poorly moulded belts often provided. A decal is provided for the main panel – ideal for 1:72 scale.
Undercarriage and bay – This is an impressive part of the package. The legs are delicate and have most of the detail featured on the original and the open bay area is also well detailed with all the pulleys and chains evident on the real machine.
The wheels/tyres are nicely detailed.
Tailplane – This is moulded as one piece with elevators in the level position. It wouldn't be a hard job to separate the latter and slightly offset them in the drooped positioning the subtle fabric-effect is moulded well too on the elevators.
Pilot – a pilot figure is included in the seating position (if you feel you must add him)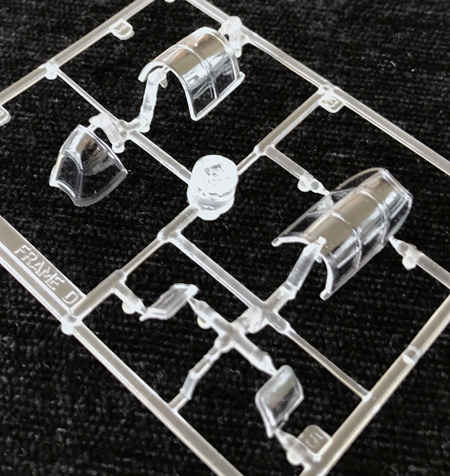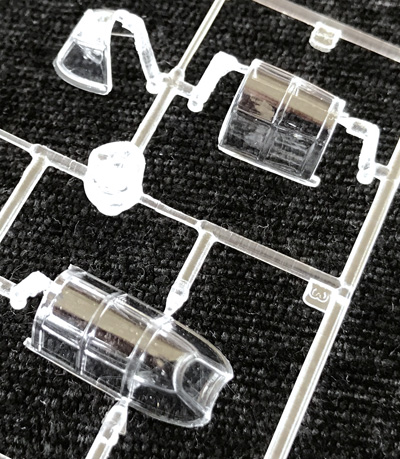 Clear parts
The canopy is helpfully split so front windscreen and rear sections are separate allowing you to pose your canopy open or closed. Crystal clear, blemish-free and well moulded without any distortion.
Instructions
The simple foldout instruction sheet is clear enough with references to paint colours; reference to exact colours and photos will help match your preferred paints to what's needed. There are full colour painting/decal guides included for each version supplied.
Decals
Decals for two different Martlet Mk.IV aircraft is included – both Fleet Air Arm machines. Full stencil data is included and a clear diagram showing where each tiny item goes. The different schemes are shown on a high quality colour fold-out sheet.

The decals are very well printed and look to be decent enough quality – let's hope so.
Here's my summary
This is a good package with good detail across the whole kit. A great starter kit for sure, or just another great subject to add to your collection – that's probably your growing collection of new-tool Airfix 1:72 and 1:48 kits. I will be building this one and I'm keen to see how it all goes together and I for one am really looking forward to it.
Geoff C.
SMN Quick summary Star rating out of 5

| FEATURE | STAR RATING (out of five) |
| --- | --- |
| Quality of moulding | **** |
| Level of detail | **** |
| Accuracy | **** |
| Instructions | *** |
| Decals | **** |
| Subject choice | ***** |
| Overall | **** |
Reference
Here is an excellent reference article by Bruce Archer on Hyperscale if you are interested in building the Martlet or Wildcat from any model in any scale: http://www.clubhyper.com/reference/wildcatfaaba_1.htm
A little bit of background to the Grumman Martlet
The Grumman F4F Wildcat is an American carrier-based fighter aircraft that began service with both the United States Navy and the British Royal Navy (as the Martlet) in 1940. First used in combat by the British in Europe, the Wildcat was the only effective fighter available to the United States Navy and Marine Corps in the Pacific Theatre during the early part of World War II in 1941 and 1942; the disappointing Brewster Buffalo was withdrawn in favour of the Wildcat and replaced as units became available. With a top speed of 318 mph (512 km/h), the Wildcat was outperformed by the faster 331 mph (533 km/h), more manoeuvrable, and longer-ranged Mitsubishi A6M Zero. However, the F4F's ruggedness, coupled with tactics such as the Thach Weave, resulted in a claimed air combat kill-to-loss ratio of 5.9:1 in 1942 and 6.9:1 for the entire war.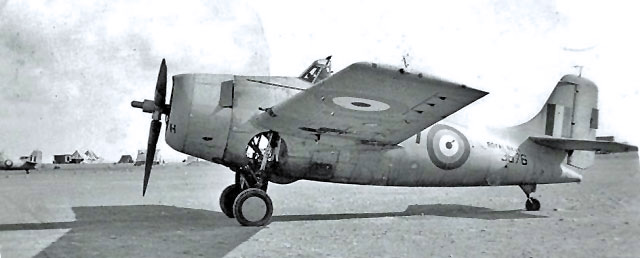 Lessons learned from the Wildcat were later applied to the faster F6F Hellcat. While the Wildcat had better range and manoeuvrability at low speed, the Hellcat could rely on superior power and high speed performance to outperform the Zero. The Wildcat continued to be built throughout the remainder of the war to serve on escort carriers, where larger and heavier fighters could not be used.
I would still assess the Wildcat as the outstanding naval fighter of the early years of World War II … I can vouch as a matter of personal experience, this Grumman fighter was one of the finest shipboard aeroplanes ever created.
— Eric M. "Winkle" Brown, British test pilot
Even before the Wildcat had been purchased by U.S. Navy, the French Navy and the Royal Navy Fleet Air Arm (FAA) had ordered the Wildcat, with their own configurations, via the Anglo-French Purchasing Board. The F4F Wildcat (known in British service at first as the Martlet) was taken on by the FAA as an interim replacement for the Fairey Fulmar. The Fulmar was a two-seat fighter with good range but at a performance disadvantage against single-seater fighters. Navalised Supermarine Spitfires were not available because of the greater need of the Royal Air Force. In the European theatre, the Wildcat scored its first combat victory on Christmas Day 1940, when a land-based Martlet destroyed a Junkers Ju 88 bomber over the Scapa Flow naval base. This was the first combat victory by a US-built fighter in British service in World War II. The type also pioneered combat operations from the smaller escort carriers.
Six Martlets went to sea aboard the converted former German merchant vessel HMS Audacity in September 1941 and shot down several Luftwaffe Fw 200 Condor bombers during highly effective convoy escort operations. These were the first of many Wildcats to engage in aerial combat at sea.
The British received 300 Eastern Aircraft FM-1s as the Martlet V in 1942–43 and 340 FM-2s as the Wildcat VI. In total, nearly 1,200 Wildcats would serve with the FAA. By January 1944, the Martlet name was dropped and the type was identified as the Wildcat. In March 1945, Wildcats shot down four Messerschmitt Bf 109s over Norway, the FAA's last victory with a Wildcat. The last air-raid of the war in Europe was carried out by Fleet Air Arm aircraft in Operation Judgement, Kilbotn on May 5, 1945. Twenty eight Wildcat VI aircraft from Naval Air Squadrons 846, 853 and 882, flying from escort carriers, took part in an attack on a U-boat depot near Harstad, Norway. Two ships and a U-boat were sunk with the loss of one Wildcat and one Avenger torpedo-bomber.
Martlet Mk III…
The first 30 F4F-3As were released for sale to Greece, after the Italian invasion in November 1940. However, at the defeat of Greece in April 1941 the aircraft had only reached Gibraltar. They were taken over by the FAA as Martlet Mk III(B). As these aircraft did not have folding wings, they were only used from land bases. They served in a shore-based role in the Western Desert.
Ten fixed-wing G-36Bs were used by the FAA as Martlet III(A).
Martlet Mk IV…
The Royal Navy purchased 220 F4F-4s adapted to British requirements. The main difference was the use of a Wright R-1820-40B Cyclone in a distinctly more rounded and compact cowling, with a single double-wide flap on each side of the rear and no lip intake. These machines were named Martlet Mk IV. Boscombe Down testing of the Martlet IV at 7350 lb weight showed a maximum speed of 278 mph at 3400 ft and 298 mph at 14,600 ft, a maximum climb rate of 1580 fpm at 6200 ft at 7740 lb weight, and a time to climb to 20,000 ft of 14.6 minutes. The service ceiling at 7740 lb was 30,100 ft.