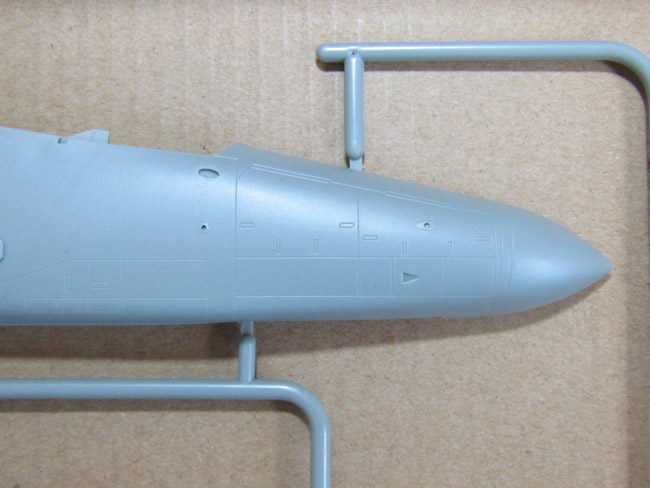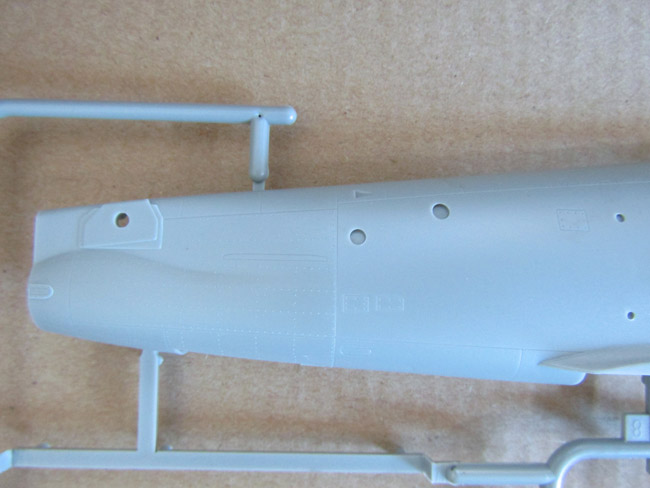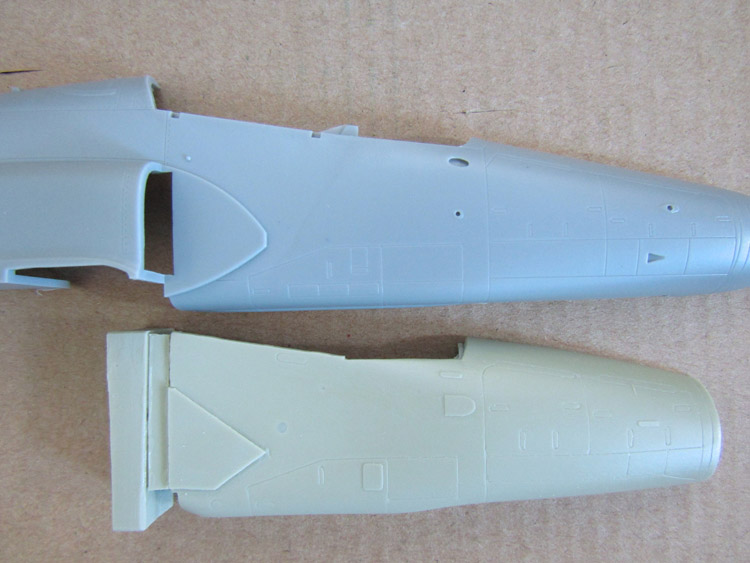 Canopy and windscreen parts are crystal clear and free of distortion, it's a nice touch that they are so well packaged for protection.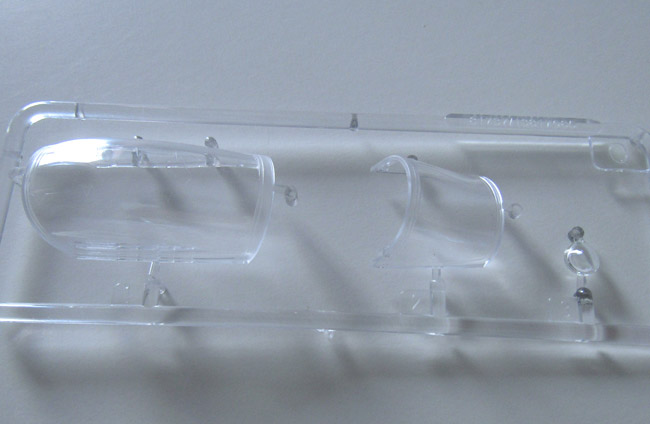 Wings, flaps, control surfaces and undercarriage are all equally well detailed.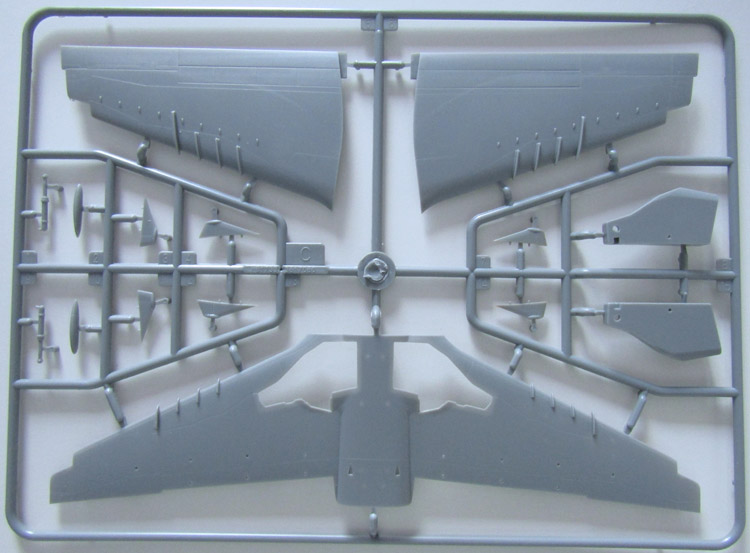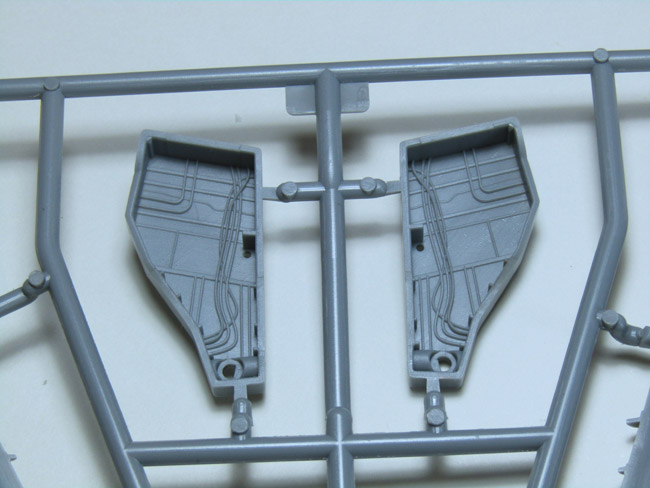 However, a typical trait of Hobby Boss and indeed Trumpeter is to locate the sprue gates on part seams. This works well for thicker parts like fuselage halves, but is a recipe for disaster on thin parts like wing leading or trailing edges.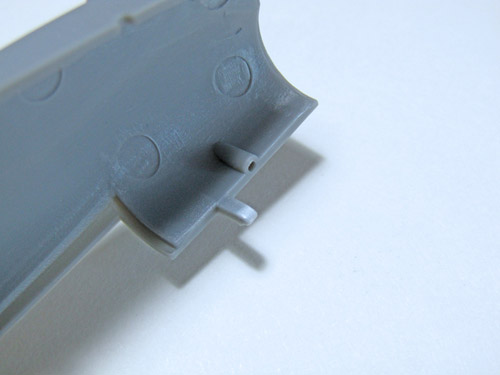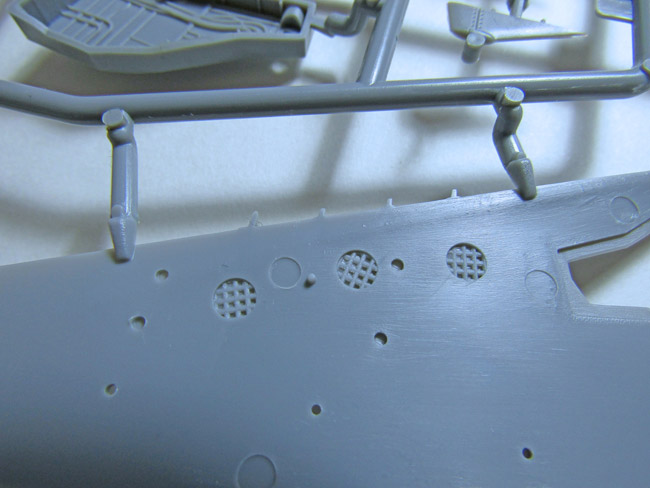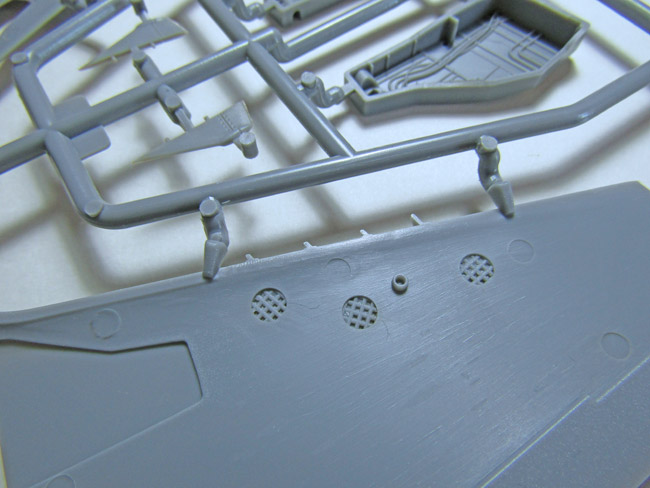 Great care is needed to remove the part from the sprue and clean up the seam.
Also supplied is a well detailed Aden gun pod and interestingly a transit container, which I am sure would only have been fitted to the demonstrator. Nice way to get your golf clubs around the place for those 'off site' sales deals.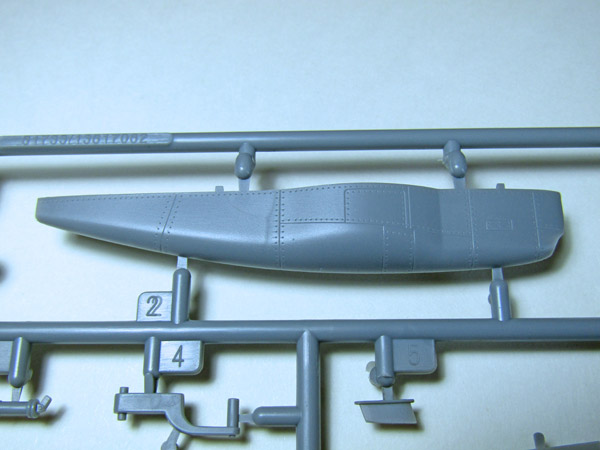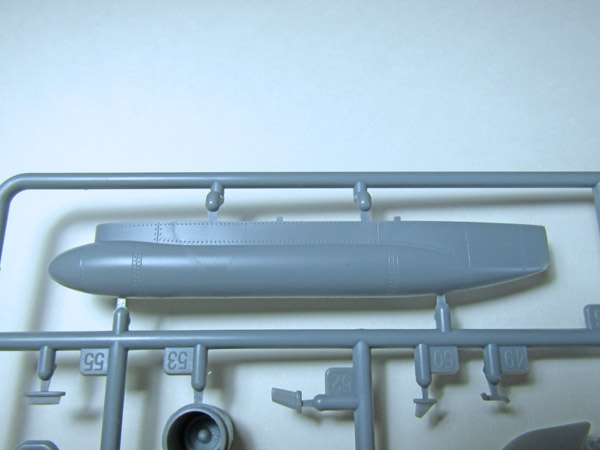 Thoughtfully a good selection of weapons, accurate for the overseas operators is supplied on separate sprues.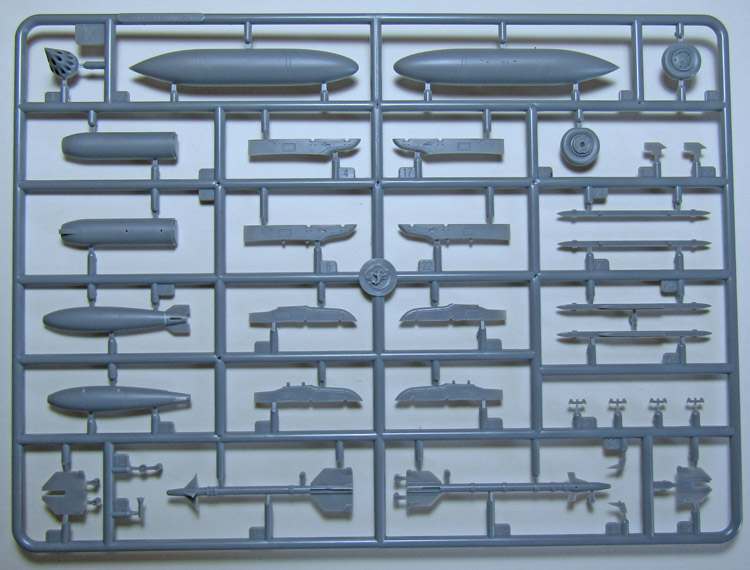 Along with fuel tanks, bombs and rocket pods, the only store I see missing is the AGM 65 Maverick, which Indonesia keep in inventory.
Two differing marks of AIM9 Sidewinder are represented, the 9L & 9P.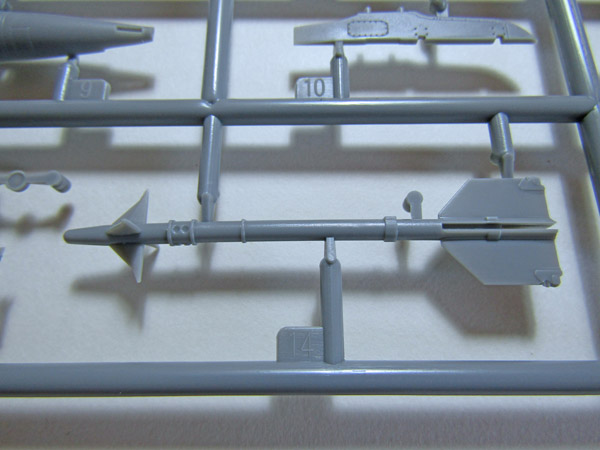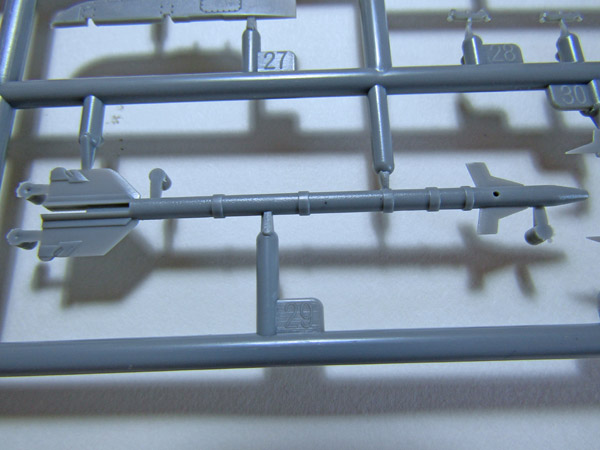 Instruction sheet is a typical black & white printed A4 booklet style in exploded view format.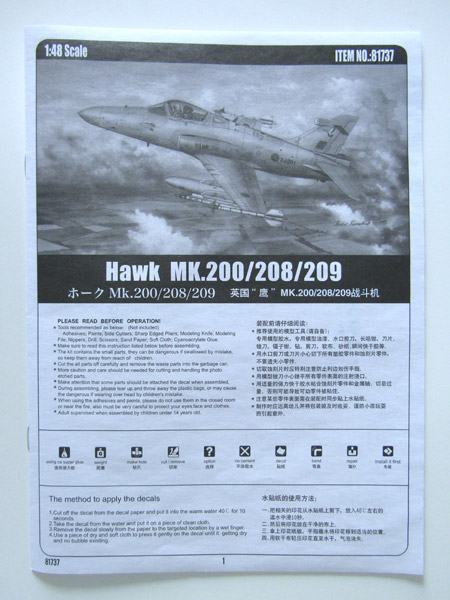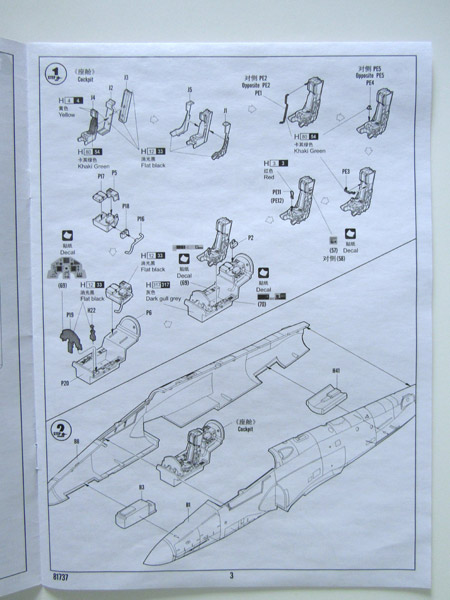 A separate full colour double sided A4 sheet contains colour callouts and decal placement guide for the three options available, one Malaysian Mk208, one Indonesian Mk209 and interestingly one of the pre-production demonstrator airframes ZJ201.
This aircraft was lost in June 1999 while performing an aerobatic display during SIAD at Bratislava in Slovakia, the pilot Graham Wardell failing to eject and was tragically killed.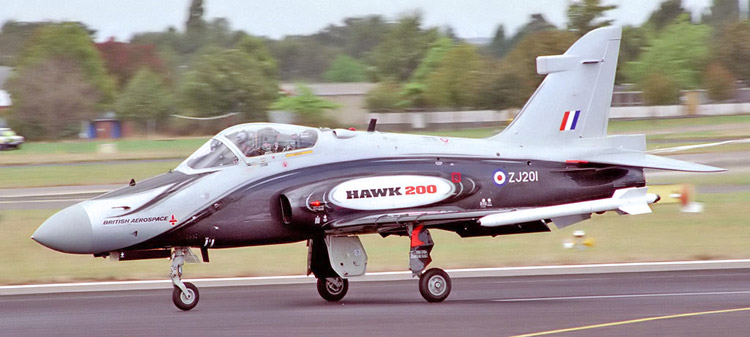 It is a sign of respect in my opinion that one of the paint and decal options in the Hobby Boss kit is this actual demonstrator, unfortunately not in the distinctive two tone scheme, but that wouldn't be difficult to replicate methinks.
Dry fitting shows the fit to be up too Hobby Boss's usual quality standard, I don't envisage a lot of filler on this build.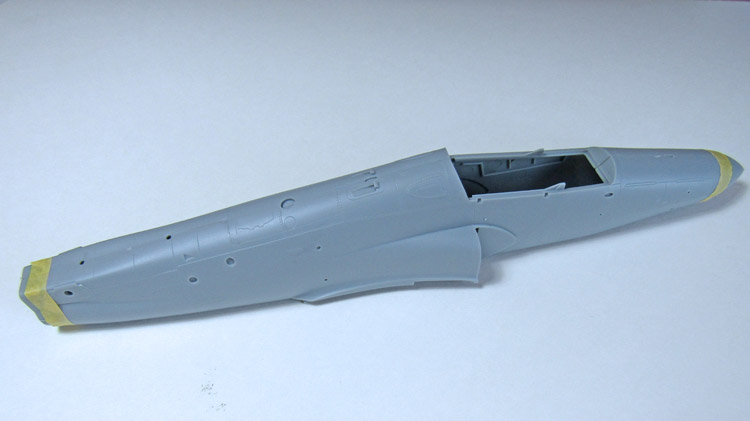 Conclusions…
A very welcome addition to the Hawk family, kudos to Hobby Boss for taking on such an unusual subject that only three air forces worldwide actually fly, making this one aircraft you won't get to see very often in the flesh.
Not unexpectedly, fit and quality are excellent and I am particularly impressed with the range of ordnance stores offered, matched to the respective countries. It is clear Hobby Boss did their research and this little attention to detail is admired.
Very highly recommended…….a 'must' build in my opinion.
Mick S.
Quick summary Star rating out of 5
| FEATURE | STAR RATING (out of five) |
| --- | --- |
| Quality of moulding | ***** |
| Accuracy | ***** |
| Instructions | **** |
| Decals | ***** |
| Subject choice | ***** |
| Overall | ***** |