The Kit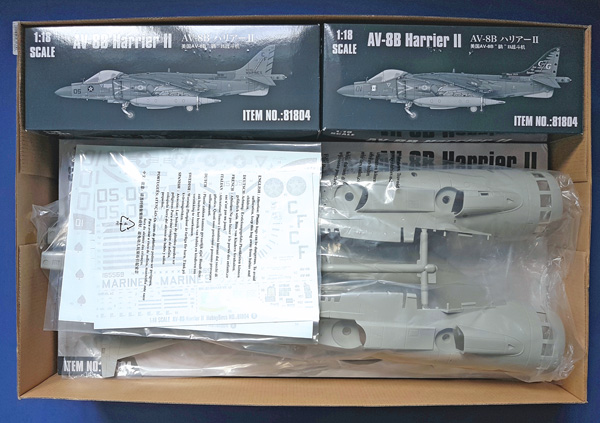 At 806mm long and 514mm wide it's going to need some space once finished and with 280 parts should keep you busy for a while.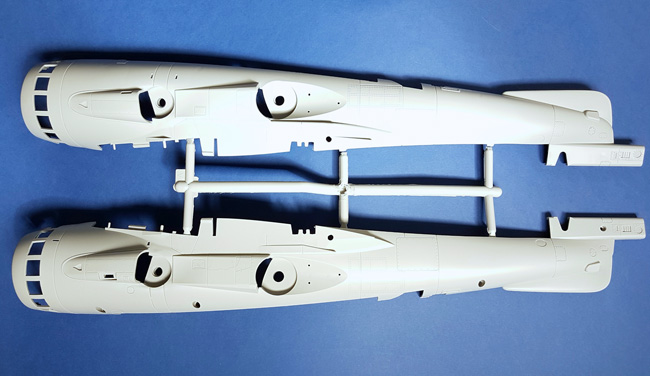 I do have a slight problem with the size of the rivet recesses on the fuselage, they look a tad large to me, but once painted and weathered they should be less noticeable. The only other way is to fill and re-rivet, which may be worth doing as there's not a huge amount of them.
The other and to me 'major' bugbear is with the rotating jet nozzles. They've been slide moulded to include the louvers but they all have a huge cylindrical piece through the centre to enable you to connect them to the engine. I'm pretty sure a better solution could have been thought of as now I'll have to remove them all for accuracy's sake.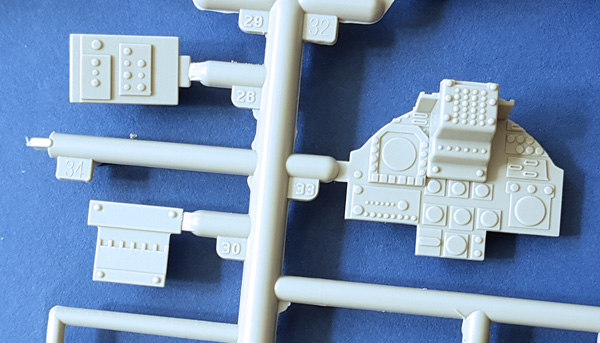 The cockpit is 'acceptable' but needs some extra detailing and as I'm hoping to light the displays I'll carefully cut them out and replace with clear styrene then add the appropriate decals. While in the cockpit it's interesting to note that the ejection seat cushions are supplied in the same rubber as the tires, an odd decision to be sure.
You get rubber/vinyl tyres included.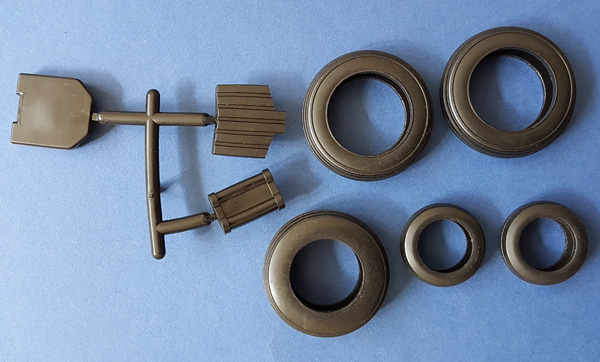 The canopy is huge as you see by my hand. The good thing about it is the detonation cord is moulded into the plastic and with a little careful masking can be painted without too much trouble. The only drawback is because the canopy is so large we have a centre seam to deal with but that shouldn't present many problems – see the SMN Techniques Bank for how to remove these things.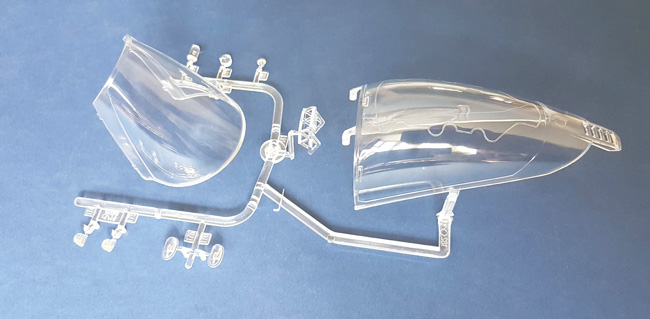 The Rolls Royce Pegasus engine is supplied but again would benefit from some detail work if you want to show it off.
Two truly huge 500 gallon external tanks are provided, as are two AIM 9L Sidewinders and two MK.82 Snake Eye unguided, low-drag general-purpose bombs, along with what I think is a Sniper ATP pod. I'm willing to be corrected on that.
Several ordinance ejector rack pylons are in here too, but the sway braces also need some work.
There are two decal sheets for two US Marine birds. One from VMF-211, Avengers and the other from VMF-231, Ace of Spades.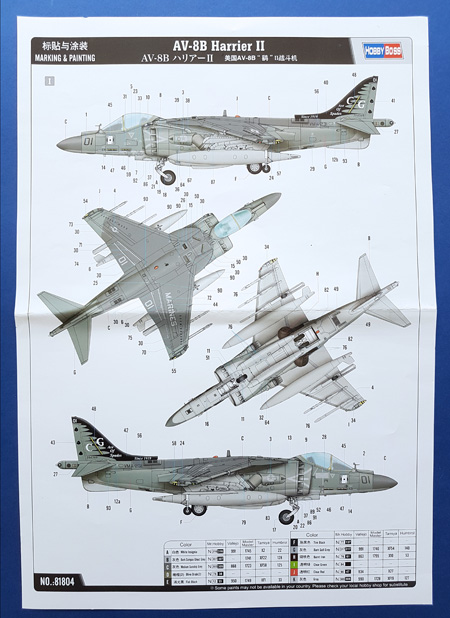 To sum up
Overall I think the AV8B Harrier is well represented with this kit and it will build into a very striking addition to anyone's collection with the right amount of work. Hopefully Eduard will bring out something to spruce up the office, but I won't hold my breath. A 1:18 pilot figure can be purchased from 48 Special Models, which has been purpose made for this kit, he may even fit!
As I mentioned before I intend to detail, where necessary and add navigation and cockpit lighting. So watch this space for further updates.
Andy F.
Overall then, here's my summary…
SMN Quick summary Star rating out of 5
| FEATURE | STAR RATING (out of five) |
| --- | --- |
| Quality of moulding | **** |
| Level of detail | *** |
| Accuracy | **** |
| Instructions | *** |
| Decals | **** |
| Subject choice | ***** |
| Overall | ***** |