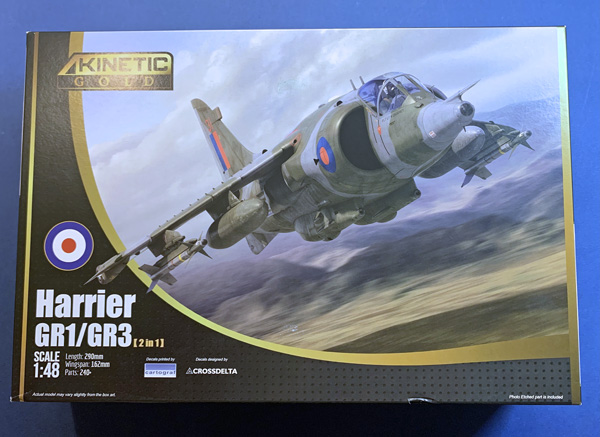 In-Box Browse with Dave Coward (March 2021)
---
Take a browse inside the box now…
---
In Summary
This looks like a nice kit from the box but I'll reserve my judgement on it until I build it as the FRS1 looked great in the box but was a 'challenge' to build. Some of the sprues are legacy sprues from previous versions and this is quite obvious when you look at them as the moulding is quite soft and there is quite a bit of flash. That said the new sprues look great; they are flash-free, the surface detail is sharp and a quick dry-fitting shows they appear to go together without any issues.
A decent early Harrier has been needed for some time as both the Airfix and Monogram (I think) kits are definitely showing their age now and need a lot of work to get a good/accurate model from them.
Overall this looks promising but keep an eye out for the full build to see if it lives up to expectations!!
Dave C.
SMN Quick summary Star rating out of 5
| FEATURE | STAR RATING |
| --- | --- |
| Quality of moulding | *** |
| Accuracy | **** |
| Instructions | * |
| Decals | ***** |
| Subject choice | **** |
| Overall | **** |
Here are some additional pics…

Instructions