Note…
It's worth noting that ZM produces a number of detail accessory sets available at extra cost: colour PE for the cockpit, metal undercarriage, weighted tyres, British F-4J(UK) No.74 "Tiger" Sqn decals etc. See them on the Zoukei-Mura website.
The Zoukei-Mura F-4D Phantom II kit
As soon as you look into the box everything is perfectly packaged and there are many sprues with lots of perfectly detailed parts moulded in grey plastic. Inevitably, as the 'D' is similar to the other variants available from ZM and so most of the kits parts are what you may already be familiar with.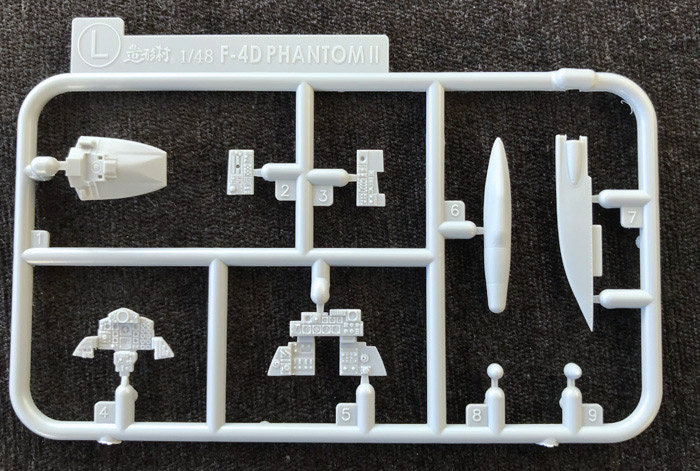 A new small sprue is included this time containing important detail differences for the 'D'. On that note, check out the ZM website for a helpful page that clarifies these differences. The differences are mostly in the cockpit layout, nose cone chin sensor and aerial array with some other small detail changes.
Decals and painting guide
You get an option for two F-4D's – both camouflaged SE Asia schemes:
Scheme 1 – F-4D-33-MC Sr. No. 66-8812 8TFW/497TFS Ubon AB, Thailand, 1971
Scheme 2 – F-4D-26-MC Sr. No. 65-0593, 49TFW/8TFS Takhli AB, Thailand 1972
I especially like the first option with Glossy Black undersides – very menacing!
GALLERY ONE

The quality of the decal sheet included is excellent – they are by Cartograf. As you can see, full stencil data is provided and that's a LOT of decals for a Phantom in this scale.
Overview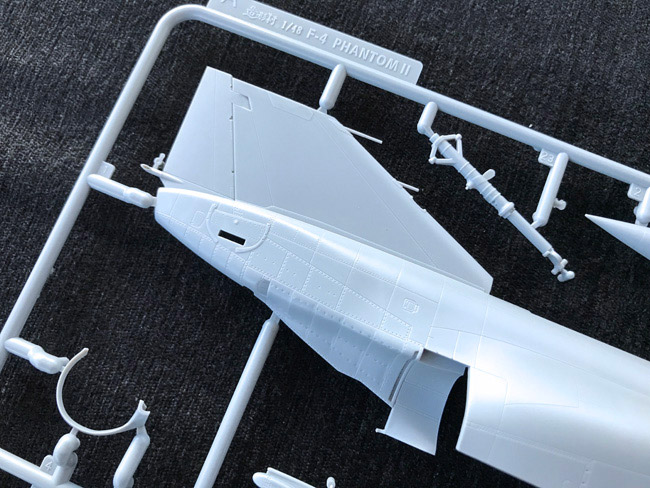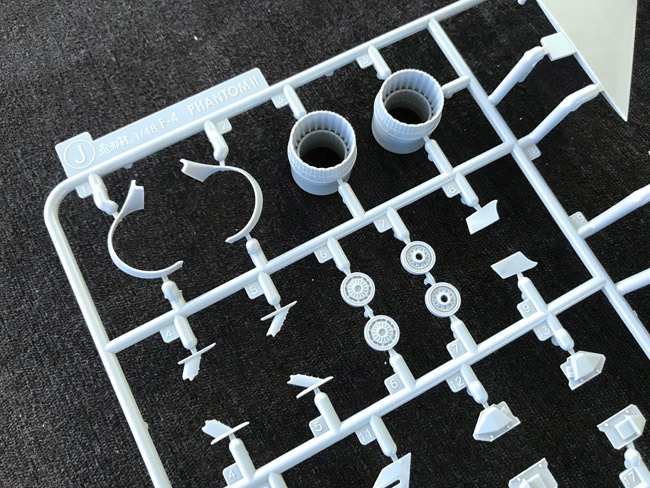 The parts are well formed and certainly accurately capture the look and shape of the Phantom II, I really can't fault anything there.
Recessed panel line detail is excellent – precise and fine.
Options are included for dropped flaps and wing leading edge slats and speed brakes under the wings.
Assembly is mostly conventional although you do have the option to include a detailed J-79 engine (or two). This is one of those things that's a bit odd though – not much point in detailing it, for it never to be seen again. You can build the engine and place it on a trolly cleverly made from sections of the sprue frame. The only problem is you only have one set of afterburner/reheat cans and this poses a challenge – it would have been better for ZM to simply add two sets of cans, that would have made life easier or just buy a pair of these from one of the resin aftermarket manufactures like Aires, Eduard or other source.
The crew access ladder is a nice touch.
Cockpit
This is a real highlight – everything is in there that you may want in an F-4 cockpit: detailed seats, instrument panels, sills, rudder pedals, control columns, canopy details and even the complex wiring you get on the rear decking and behind the pilot's seats is pretty well represented and that's impressive. The new small sprue has the new instrumentation for an F-4D cockpit.
Wheels, wells and undercarriage
very impressive again, it's all there on the detail front and these areas look impressively realistic on the completed model.
GALLERY TWO

Engines and cans
I've really covered this above just to say that the engines are very well detailed and would look good mounted on a dolly next to your completed model or in a dio. I'd be tempted to buy a set of resin cans from one of the aftermarket manufacturers and then you can have a complete model and display one or both General Electric J79s? Your call.
Full intake trunking is provided that should avoid any issues when you look down into the intakes. This is commonly a tricky area in F-4 kits and ZM has captured it perfectly.
GALLERY THREE

Stores
4 X AIM-9s (multiple versions with interchangeable heads), 4 X AIM-7 Sparrows and a centre line drop tank, plus the all-important pair of wing drop tanks complete the package.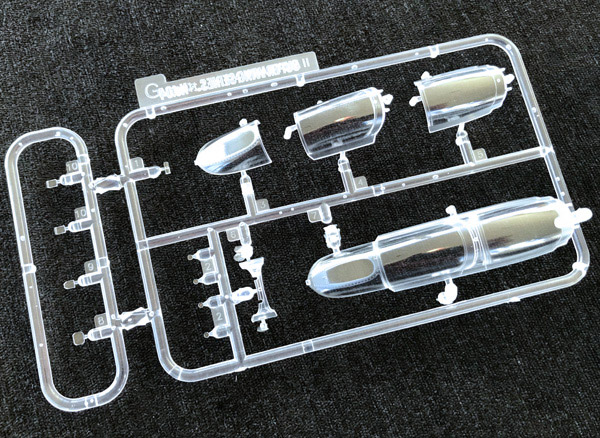 Clear parts
The usual two options included for closed or open canopies. Parts are very clear, blemish-free and have no canopy seam lines to remove – great!
Instruction book
Very comprehensive with plenty of clear advice about options and follows the usual exploded view approach. Paint references are included too for Vallejo paints and it's useful that FS numbers are included where appropriate. Again, it would have been nice to have a few other mainstream paint manufacturers' colours listed but the lack of them may indicate some commercial arrangement that precludes them.
GALLERY FOUR

GALLERY FIVE

Large scale colour painting guides show locations for all the decals and painting (see above)
Overall then, here's my summary
This range of F-4s from Zoukei-Mura is the best available in 1:48 scale in my view and worth every penny.
Geoff C.
SMN Quick summary Star rating out of 5
| FEATURE | STAR RATING (out of five) |
| --- | --- |
| Quality of moulding | ***** |
| Level of detail | ***** |
| Accuracy | ***** |
| Instructions | **** |
| Decals | **** |
| Subject choice | ***** |
| Overall | ***** |
End note…
The Range of kits coming from Zoukei-Mura is interesting, varied and exceptional in terms of quality – long may it continue!