Let's get into the contents…
One of the first things to hit you is that one-piece fuselage moulding – very impressive and reminiscent of Tamiya's approach to their 1:32 Phantom kits. This one is distortion-free and sports finely recessed panel lines.
Looking at the other main parts, the main wings are nice, again featuring great recessed detail. The ailerons are also possible to pose dropped as is common on many Phantoms. The one-piece lower wing section with separate upper wing and outer panels is normal for Phantom kits. I dry fitted a few of these parts and they seem to fit well so that's good.
Options
These seem to abound across every area of the kit: in the cockpit you have optional main instrument panels as you do for the two types of nose cone on offer. Again, both slatted and non-slatted stabilators are included. Even two tail cones are in the box.
Cockpit
In addition to the above, the Martin Baker Mk.7 seats look very good, some nice raised detail there that extends to the instrument panels and this will look great under paint. Side wall panel detail is good to that all in all will make for a busy cockpit.
Inevitably the large amount of wiring behind the front seat isn't included but with some careful scratch building you can easily busy this area up sufficient to display your model with the canopy open.

Stores
These seem to go on forever! There are literally dozens of options – seriously though, just about anything that was ever fitted to an operational F-4B is in the box and I'll let you look at the accompanying pics to see if what you want is included for your chosen model. Just by way of example, no less than three different marks of AIM-9 Sidewinder are included and I've taken some close-ups to illustrate this.
Three tanks are included; the large centreline fuel tank, plus the more usual twin wing tanks and so you can add as much or as little as you like but it's always good to have the option. One inclusion I love is the SUU-23A Vulcan rotary cannon pod for the centreline weapons station and I can think of other Phantom projects that can use this even if it's not used here.
Clear parts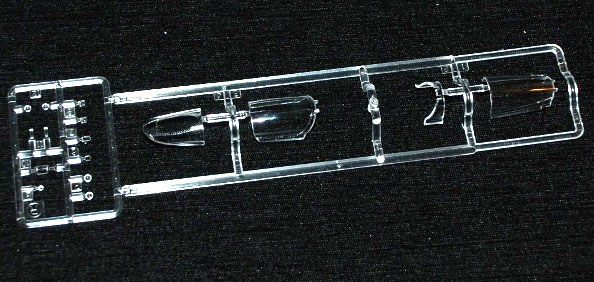 These are good, well moulded and accurate in shape and as you've heard, can be posed open of course. You'll need to add some canopy mirrors but this isn't a big ask and you may well have some photo etch from another kit to use here as none is included. The canopies do have a hairline mould seam but this is easily removed with nail buffers and 'polish' like MER car polish or a modelling product designed for the purpose.

Decals
Made by Cartograf they look to be superb quality although this boxing only has markings for a VF-111 "Sundowners" Phantom – but it is colourful to say the least! All the markings look to be in register and, importantly, all the stencil data is included that makes any US Navy Phantom kit in my opinion.
Painting guide and instructions
The all-colour painting guide is excellent albeit you may need a magnifier for some of the stencil locations!
The instructions are impressive with the main feature being the inclusion of paint references for several manufacturers and that's a first in a long time – at least for the variety of manufacturers included – nice one Academy!
In summary
Well, you've pretty much had this right up front at the head of this review; this is an excellent kit and package of an iconic type. We've needed a new Phantom in 1:48 scale for a while now as the Hasegawa moulds are showing their age and that manufacturer's prices seem excessive in the UK for whatever reason. So, a very welcome addition to the Phantom Phamily and one that this Phanatic is very keen to see built!
Highly recommended
Geoff C.