Spitfire Mk.II
I think that we first reviewed the Spitfire Mk.Ia kit back in 2010 (here) and this Mk.II is based on the same tooling as far as I can see with suitable mods for the Mk.II. Panel line detail is a little heavy but no too bad really on the new kit offered in this package. Given the scale the cockpit has enough to keep most modellers happy: decal instrument panel, detailed bulkhead behind the seat that just needs a bit of thinning, control column.
Wheel wells are detailed and option for early two-bladed prop is also included so if you can get new decals more possibilities are open to you for finishing what's in the box. Weighted tyres are a nice touch. Optional propeller blade choices is impressive.
Outline shape is very good capturing the original very well.
Spitfire PRXIX
Again, a very similar offering to the Mk.II. This time with five-bladed propeller that's a good shape. Outline shape for the type is also impressive and visually accurate to my eye. Oddly, no wheel well detail this time. Cockpit detail is also less well defined and not too convincing, so overall, not as good as the Mk.II kit.
Clear parts
Nice looking these – very clear without any flash. All the clear parts included for all three models are well formed and blemish-free.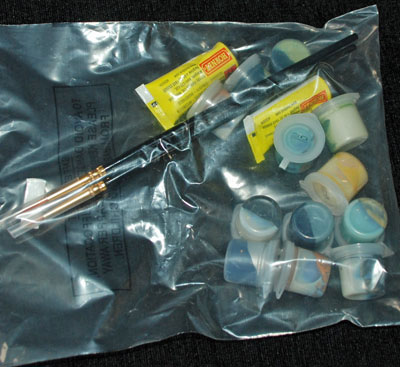 Paints and glue
As with all the Airfix Gift Sets, they come with small pots of paint, glue and brushes.
A multi-point stand is also included if you want to mount your completed models.
Instructions, decals and painting guide
The instructions are logical and well laid out. The usual exploded-stage diagram approach is used. The colour painting guide is provided as separate sheets and I like that, making it much easier to use and have in front of you when painting and applying the decals.

The decal sheet is well printed with all markings/colours in register.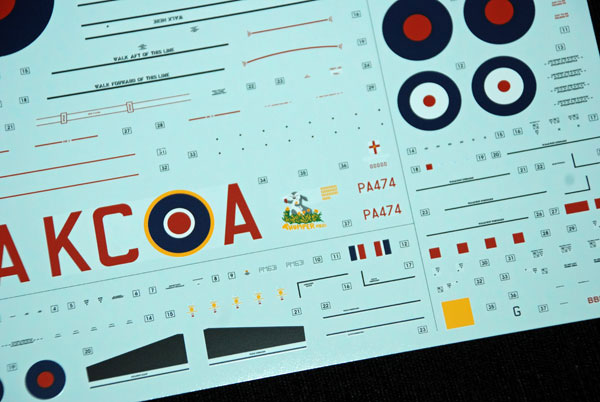 Summary
This is a nice package and an ideal gift as I'm sure Airfix intends. Quality of the Lancaster and Mk.II Spitfire in particular is very good. There's enough modelling in here to keep you busy for hours!
Geoff C.
SMN Quick summary Star rating out of 5
| FEATURE | STAR RATING (out of five) |
| --- | --- |
| Quality of moulding: Lancaster B.III and Spitfire Mk.II | **** |
| Quality of moulding: PRXIX | *** |
| Accuracy | **** |
| Level of detail: Lancaster B.III and Spitfire Mk.II | **** |
| Level of detail: PRXIX | *** |
| Instructions | **** |
| Decals | **** |
| Subject choice | ***** |
| Overall | **** |