What's in the box?
Well, clearly this isn't a new-tool model; I wouldn't expect it to be, no this is the original release back again but with some great decals if you do fancy a pop at an old favourite.
Take a look at the kit parts in the photo gallery above – not bad, given the age of the kit. Yes, there are raised panel lines but these can easily be sanded off and there isn't too much excess flash/plastic either. Those large trenches for flap joins and so on can all be filled and re-scribed with minimal effort.
The shape is pretty good and certainly looks like an early Boeing 737.
This is a basic kit that will present few problems for any builder of any age and builds into a fairly decent representation of a Boeing 737.
Decals and instructions
The decal sheet is excellent offering two brightly coloured '737s; one Southwest Airlines and the other Britannia Airways; I'm sure I remember seeing these when I popped across to London, Luton Airport many years ago. A great feature is the inclusion of decals for the windows, should you wish to fill the holes provided and go this route. You can always add the windows as suggested in the instructions and see how they look and if not what you want, just fill over them and apply the decals later.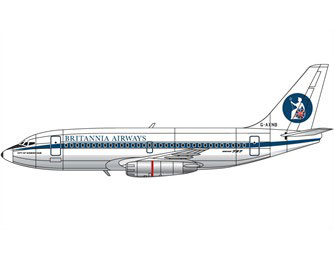 To sum up
Sure, this is an old model and the price of this release at the time of writing feels expensive to be honest. On the plus side those decals are typical of the time for Boeing 737 aircraft in their heyday. If any of you out there happen to know of or locate decals for this kit featuring military options, then please do let us know. Thanks.
SMN Quick summary Star rating out of 5
| FEATURE | STAR RATING (out of five) |
| --- | --- |
| Quality of moulding | *** |
| Accuracy | *** |
| Instructions | *** |
| Decals | **** |
| Subject choice | **** |
| Overall | *** |