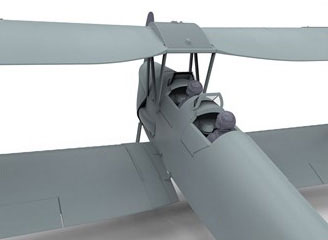 Initial assessment
It's always nice to have new-tooled kits of classic ones and that's the case here from Airfix.
Quality
The sprues have well detailed, often very delicate parts that look impressive – this is quite a simple kit in terms of parts count and the low-price reflects this. The panel line detail is quite fine, although there aren't that many panel lines on the Tiger Moth! Maybe slightly heavy for the scale but very presentable and sharp and bearing in mind the type has little in the way of panels is fine. There is no discernible flash visible but some of the smaller parts have small tabs that will clearly need to be removed carefully, for example the wing struts. I have encountered these before and they are able to be removed easily enough using a sharp scalpel.

The tyres in this kit come neatly moulded hubs.
Moving onto the main parts like the fuselage and wings these are nicely tooled and look to have a pretty accurate shape. The upper and lower wings have the dihedral built into them and this will make construction easier, especially if you are less confident building biplanes.
Cockpit
The cockpit has decals for the main instrument panels and this is ideal in this scale, with a seat that's simple and will be enhanced by the addition of a scratched or etched seat harness. Some detail is moulded into the fuselage side and, again, this is fine for the scale; a nice touch is the option for a pair of open access doors.
Other details
I really like the finesse of some smaller parts like the exhaust pipes. The propeller and engine cowl are neatly tooled.
Clear parts

The Tiger Moth has two very small clear windscreens and these are clear and well formed.
Instructions
These follow the usual exploded stage diagrams and are clear and straightforward. Humbrol paint references are given on the all-colour painting guides included and that's nice to see. Colour names are also given allowing you to match your colours from whatever source you prefer.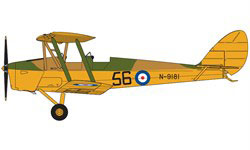 Decals
You get one scheme with the kit, a machine from No.10 Elementary Reserve and Flying Training School, Royal Air Force Yatesbury, Wiltshire, England, 1940. Quality is sound enough with colours solid and markings in register.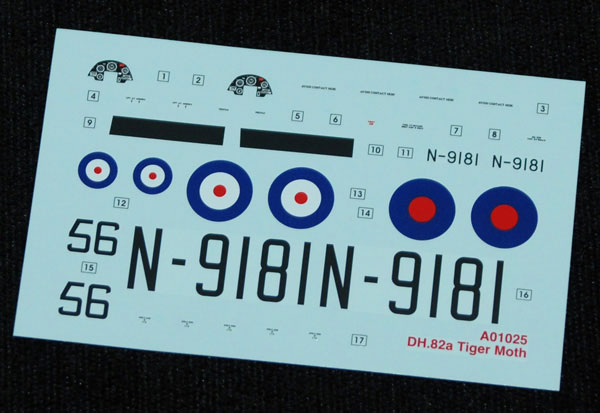 SMN Quick summary Star rating out of 5
| FEATURE | STAR RATING (out of five) |
| --- | --- |
| Quality of moulding | **** |
| Accuracy | **** |
| Instructions | **** |
| Decals | **** |
| Subject choice | ***** |
| Overall | **** |