So what have they done with the Starfighter and how does it compare with the Hasegawa benchmark.

The Box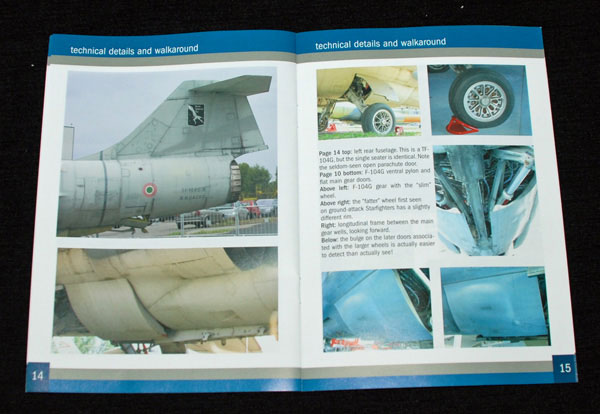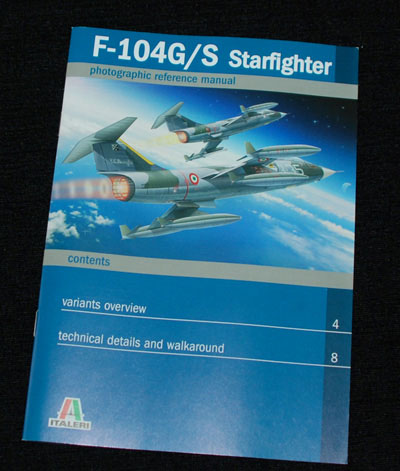 The box is typical Italeri lid and tray type, robust and adorned with a pair of Italian AF F-104S banking to port in full re-heat; it is quite nice but no Roy Cross in his heyday but enough to attract the casual buyer. The box is not crammed full but includes plastic injection moulded parts together with a poor etch fret that seems to be an afterthought, a nice little reference booklet, instructions and a Cartograf decal sheet that looks fantastic; more of this later.
What's in the box?
The kit parts are moulded in a pale grey plastic that is reminiscent of early Revell 1:32nd scale kits (their F-4J springs to mind). What I mean is that it is soft and not as crisply moulded as I was hoping or expecting. The model has engraved detail which is ok but not in the Tamiya or even Trumpeter league but just about ok in this scale. I think it will probably look ok under some camouflage and weathering but under a natural metal finish may expose some weaknesses.

Accuracy
I can't really comment on the kits accuracy but on the sprues it looks every inch a Starfighter, but then so did my Trumpeter 1:32nd scale Intruder. I will reserve judgement just now but will give the benefit of any doubt to Italeri at this stage. As is the norm these days there are a number of open panel options and like the Hasegawa kit a representation of a J-79 engine that can be fitted in to the fuselage and sealed, have the tail removed or placed on a trolley outside the model. Frankly it's ok but as a display item on a trolley be prepared for a lot of work with wire and such like as the extensive plumbing on a J-79 is not represented on the model.
The open avionics bay and gun bay are both adequate with the gun bay being the better of the two. Once again building and consulting my references will enable me to give a better appreciation of these. 1950's/60's jets are always busy and I think that Italeri have not gone far enough with what is going to be a focal point of the kit. On the upside two seats are provided, the Lockheed seat used on the RCAF version and the Martin Baker version used by the other nations. Etch harnesses are included but at this scale both seats and harnesses will need to be replaced by resin or better produced etch from Eduard. Not doing this I feel will spoil the look of the model. The instrument panel and side consoles in plastic are just about acceptable but not really up to the standard needed for the scale. The replacement etched parts for the panel and consoles are hopeless and best consigned to the bin. This is definitely a case of throwing some etch in a kit to "add value" but Italeri in this case it's a waste of money, I won't be using it. I am not sure how I will approach this part of my build yet but it sure won't be simply using the kit parts. Come on Aires and Eduard get cracking please you're needed!
Detail in the undercarriage bays looks fine to me especially as the main doors on the main undercarriage are closed after engine shut down. The legs and wheels are fine the wheel and hub detail is a little soft again but just about ok.
I am delighted with the load out options on the kit that includes AIM 9 Sidewinders Bs and Ds, Sparrows that are unique to the F-104S and for the first time in my recollection wing tip and under wing tanks so often seen on Italian versions especially. Nice touch this and very pleasing.
A nice boarding ladder is provided and the clear parts look clear and distortion free.