On the plus side
Accurate looking shape on first glance
Innovative assembly sequence – there's a completely detailed interior 'tube' that simply slots into the fuselage halves
Cockpit is well detailed with plenty of smaller details like instrument panels, seats, seat harnesses and control columns as well as detailed internal bulkheads
Main instrument decal included for cockpit – ideal in this scale given that little will be visible on your finished C-54D – moulded raised cockpit side wall detail is provided
Undercarriage units are good – detailed and look busy which is pleasing given they are a focal point of the model that will sit on its tricycle undercarriage if you select gear-down
Wheels and wheel hubs are nicely detailed and, again, are an attractive feature of the real aircraft faithfully reproduced here
Flaps can be positioned lowered to add more interest, as can the rudder
Rear cargo bay is detailed: seats, flooring and openable doors all look authentic
Open cowl flaps
Propeller blades look to be a good shape.
Watch out for
Some excess flash is evident, although not too much to bother most modellers
Full span lower wing so be careful when aligning and gluing to the fuselage to ensure minimal cleaning up.
Clear parts

The kit includes many clear parts for the cockpit, side windows and observation blisters. All parts are blemish-free, clear and well-shaped. Cleverly the windscreen is moulded as part of a front upper fuselage section and will make for much easier cleaning up, blending and masking ahead of painting.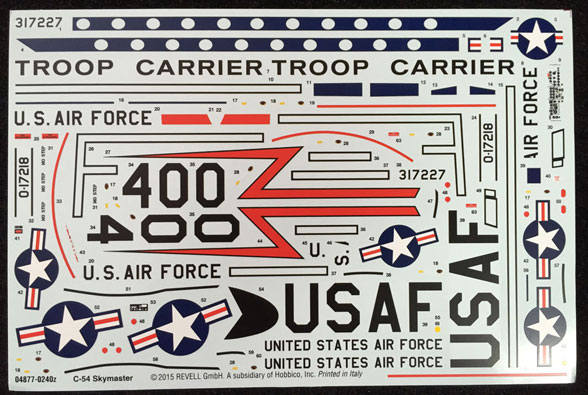 Decals and instructions
You get two schemes with this kit:
• Douglas C-54 Skymaster, USAF, 1949
• Douglas C-54 Skymaster, USAF, Airlift Berlin, Wiesbaden AB, winter 1948 – 1949.
Decal quality looks very good with all colours in register and colour saturation good.
The instructions are in the usual Revell fold-out booklet format with Revell Color paint references only and colour call-outs to give you an idea of what's required. Assembly is clear from looking at the build sequence and spread across 100 stages no less, so plenty of guidance on putting your C-54D together.
I've included extra photos of the instructions at the end of this review if you want more details of the assembly sequence.
In conclusion
I'm really impressed with this model and I definitely plan to build it myself – the C-54 just has so much character doesn't it? This model seems to offer a lot: refined panel line detail, good options and decals to finish off the package. Clearly more will become apparent when we build it, but just basing my assessment on what's on offer here, I love it and I suspect you will too if the subject falls within your area of interest.
Geoff C.
SMN Quick summary Star rating out of 5
| FEATURE | STAR RATING (out of five) |
| --- | --- |
| Quality of moulding | **** |
| Accuracy | **** |
| Instructions | *** |
| Level of detail | **** |
| Decals | **** |
| Subject choice | ***** |
| Overall | **** |
Instructions