Initial assessment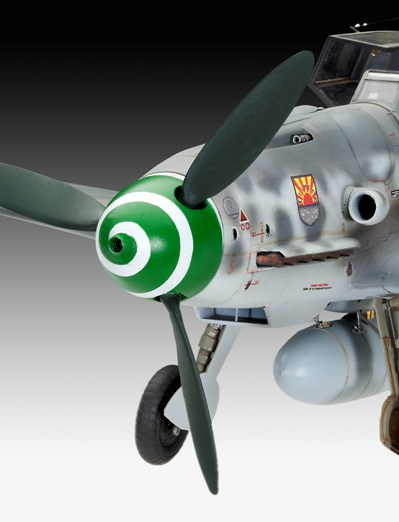 This isn't a re-release or re-boxing but is an all new tooling Bf 109 from Revell. The Hasegawa kit is nice but is twice the price of this kit and the Trumpeter kit builds well but has some shape issues especially regarding the rudder shape so have Revell made an accurate kit at a good price, let's see.?
The box is typical of what we have come to expect from Revell, quite flimsy and ending opening which is a pain for storing the model whilst under construction. When you open the box you get the following:
188 parts moulded in light grey and clear plastic on 17 sprues
A decal sheet giving 2 options
A black and white printed instruction sheet
First impressions of the kit is its very nicely moulded, more than up to Hasegawa`s standard, with nicely refined detail but there is no riveting detail as found on the trumpeter kit. There is very little, if any, flash on the parts and sprue gates are suitably small so reducing the chances of damaging them upon removal. Ejector pin marks on first look all appear to be located in areas that will not be seen. The clear parts appear to be well moulded and suitably clear. The decals are typical of the new generation from Revell and are printed in Italy by I presume Cartograf but there is nothing naming them. They are of good colour density, in register and have a matt finish to them. The instruction are again typical of Revell and what I consider to be one of there weak points. They consist of a 13 page black and white booklet that is un-stapled so easily falls apart but the actual construction drawings and sequence appear to be logical and clear. One thing that Revell have taken on board though is they now show RLM paint designators as well as their own paint numbers so you can cross reference the required colour to other paint brands.
Looking at the options in the kit now you have the choice of making a late or early version. What this means is you have two types of canopy, a tall or standard tail, different cockpit parts, different lower fuselage shell ejector configurations, smooth and treaded main wheels and alternate cowl parts.
The fuselage appears to be designed in order to allow Revell to produce other variants using this kit as the base but this does mean more joints but the fit does appear to be good so this shouldn't be too much of a problem. This unique breakdown also applies to the wings with the upper wings split into two parts.
The cockpit is well detailed and the fuel line is moulded in clear plastic so that the fuel gauge can be accurately represented. One down side though are the seat belts are moulded onto the seat pan and onto the back panel and these ones actually disappear behind the pan at the bottom – very strange but these can easily be removed and replaced with aftermarket parts if so desired.

The control surfaces have a nice fabric texture effect to them and are all hinged so you can pose them as required or move them if that's what you like !! One area that is a big improvement over the hasegawa kit is the spinner shape which is far more accurate but there are still some issues with this kit such as the undersized cowl bulges, slight misshaped propellers and external fuel tank. These are all minor issues though and will only be apparent to those real 109 enthusiasts.
In summary
Overall this is a very nice kit and definitely gives the Hasegawa 109 a run for its money, in fact it probably just edges it out in a points win and what is more it's almost half the price which for me makes it a definite winner.
Dave C.
SMN Quick Summary star rating out of 5
| FEATURE | STAR RATING (out of five) |
| --- | --- |
| Quality of moulding | ***** |
| Accuracy | **** |
| Instructions | *** |
| Decals | **** |
| Subject choice | **** |
| Overall | **** |