Plastic Parts
There is a healthy parts count for the model, with 6 sprues of grey parts and 2 sprues of clear. Of the grey sprues, 2 are duplicated and provide the tailerons, weaponry, undercarriage components and cockpits parts. Sprue attachment locations are well thought out and removal should not present too many issues. No flash is present, and where there are ejector pin marks, they are on internal surfaces.
The breakdown of parts means that either a number of F-16 variants are planned, or that Tamiya have given themselves the option to expand; I hope the former, given to sprue lettering. These options are used in the kit as is with different panel options, such as the nose IFF aerials. Having said that, the upper fuselage is split aft of the cockpit to allow for single or two-seat variants to be kitted; they have done the same with their 1:48 kits, and yet we still await a two-seater…
The main sprue, A, has one piece wings, most of the fuselage components, tail and cockpit tub. The moulding quality is astounding, with very fine panel detailing, jaw-dropping cockpit detail, really fine edges where needed, and intricate small parts, like the undercarriage and various aerials.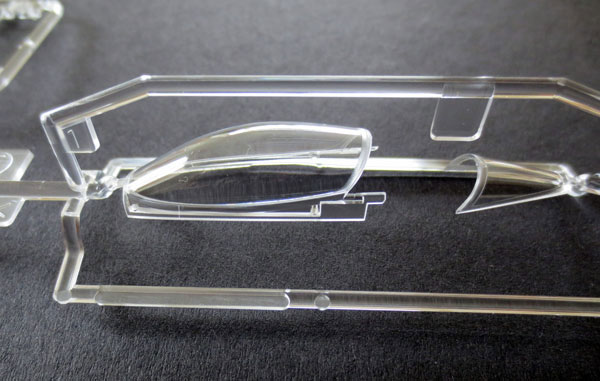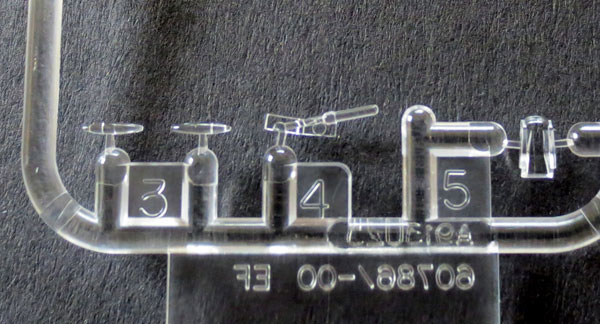 The clear parts are crystal clear, which the canopy having a barely perceptible moulding seam, and if I were to stop there, I'd say that this was the best moulding on a small-scale F-16 that I've ever seen. There are though, a number of 'howevers'. The nose is split horizontally, so will need care to line up; the engine intake, disappointingly, has depth but no compressor representation on its plain rear surface; the ejection seat is very average (though a decent pilot figure is included); and the engine exhaust has no interior detail past the afterburner petals. Overall, the plastic in the box has world class and some of the best surface detail quality I've seen, but there are a number of omissions and oversimplifications, and that's without starting on the main issues with this package.
Weapons/Stores
You're provided with 2 each very well moulded AIM-120C AMRAAMs and AIM-9M Sidewinder missiles. Also on the sprues are 2 AIM-9X Sidewinders, though these are not mentioned in the instructions, nor are the 2 main wing pylons, which it should be noted do not come with their stabilising supports. That, however, is it; no other pylons or stores. And that, I would suggest, is not good enough for a model of what is supposed to be F-16CJ.
Instructions and decals
There are 3 fold out instruction sheets. First is the main instruction sheet, taking you through the model in 20 stages. Tamiya acrylic colours are called out throughout the build, and as you would expect, construction starts in the cockpit. The build sequence seems logical overall, with surplus plastic clearly identified, as are the detail options, including the need to remove the stubs for the intake-mounted targeting pods (frustrating!!). I particularly like the undercarriage sequence shown in Stage 6. The painting and marking guide is on a second sheet, with the 3 options each having both side views shown, and two options sharing top and bottom views. Options, oh yes, these are:
5th Air Force Commander, Pacific Air Force, Misawa Air Base, Japan 2010.
52nd Fighter Wing Commander, United States Air Forces in Europe (USAFE), Spangdahlem Air Base, Germany, 2011.
79th Fighter Squadron Leader, 20th Fighter Wing, Tiger Meet Version, Buckley Air Force Base, Colorado, USA, August 2001.
I can't help but feel that the choices aren't exactly original, though perhaps that reflects the paucity of options for the CJ variant. Decals though are in register and there are a number of stencils and internal placard markings; there are also seat belt decals, if you wish to use them instead of the pilot. Additionally, there are excellent looking live weapons decals for the 4 missiles. However, on the same sheet, you get markings for the main equipment that you would expect a CJ to carry; Harm missiles, fuel tanks, targeting pods and an ECM pod. It is therefore baffling that these weapons and equipment are not including in the kit. Absolutely baffling. This is especially so as the third fold out sheet provides background information on the F-16, from development onwards. Of note, is the description of the MSIP progression and F-16 variants, which a depiction of F-16 compatible ordnance; this is almost teasing, as there are no pointers as to how you can model a role-specific F-16CJ from what you get in the box.
Summary
For me, as an outline model of the F-16CJ, I think that Tamiya have produced what could be the definitive late-model in 1:72nd scale. I wouldn't have said that the market is crying out for it, but it sets the benchmark in a number of areas and is up there against the best of any kit in this scale. The trouble is, for all its excellence, you can only produce a 'naked' version of what it says on the box. Moreover, an operational F-16 without tanks is rare, so the omission of these is not something that can be forgiven. I think the only time you see an F-16 without tanks is for post-maintenance air test or an air display, so you could model out of the box on that premise, aside from the fact that an F-16 wouldn't perform either function with live missiles. So, in sum, with no stores and gaps in detail around the intakes and exhaust, this otherwise outstanding kit is a very, very disappointing package. I only hope that Tamiya have a plan to add the minimum level of stores in future boxings; perhaps there was an epic fail in the tooling department, the weapons sprue was damaged beyond repair, and the release schedule had to be met for marketing reasons…
SMN Quick summary Star rating out of 5
Tamiya Lockheed Martin F-16CJ [Block 50] Fighting Falcon 1:72