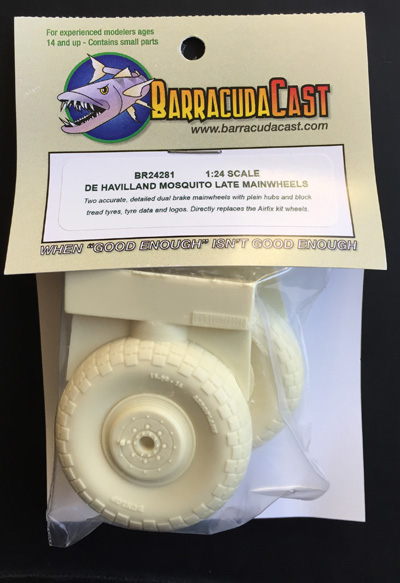 Ref: BR24281
Review by Geoff Coughlin (November 2015)
Our thanks to Roy S. at BarracudaCast for supplying our review sample.
You may have seen that we have already built three of the big Airfix De Havilland Mosquito kits and you can find those in the Airfix pages in Finished Now. Both Julian S and Dave C who are responsible for those builds will use resin replacements as I will, when the need arises.
These new resin replacement wheels will make a difference to your completed model – especially if you plan on building a late version of the type.
The pictures pretty much speak for themselves and show you the new resin wheels that are a simple replacement for those included in the kit.
The moulding block is not very big and this will help reduce clean-up time and can also provide a slight flat-spot for your model to sit, suggesting a small amount of weight bearing by the tyres.
A high quality product that you may consider worthwhile – take a look at the pics and make your choice!
Geoff C