For Trumpeter kit
Set C101
£17.50 GBP
Review by Geoff Coughlin (November 2015)
Thanks to Neomega for supplying our review sample
Neomega offer some of the very best resin replacement sets available to scale modellers; you only have to look at the fine detail moulded into the parts that you can see in these photos to see what I mean.
This set comprises a complete cockpit replacement with the resin parts designed to pretty much replace those offered in the kit. The individual parts are cleanly moulded with minimal excess resin to remove from the blocks which always makes the task of using them more straightforward and less hazardous to be honest (less saw dust).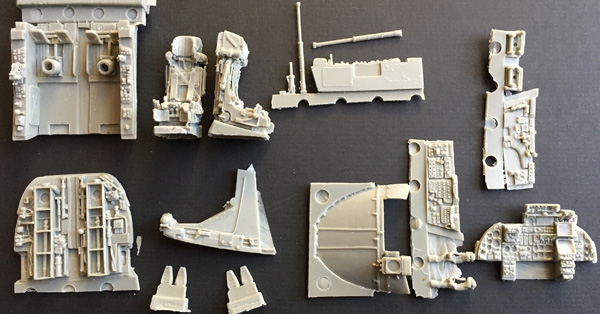 A small colour identification sheet is included to show what's included.
There's no doubt that this set will enhance the kit cockpit no end and provide a real focus for attention.
Highly recommended.
Geoff C.