The bomb bay is very well represented too, even if nothing is visible once the kit is closed. The fuel tank is represented and there are plenty of bombs to put on the racks. It's possible to let the doors open. Being this is an aircraft that is really close to the ground it will be difficult to see anything, but for those who like to detail the interiors this is an excellent opportunity. Another nice touch is that there is a single part for the ones who rather prefer to have it closed and two parts for the opened option, no need to divide any part here.
The upper wing comes in one part, and we will find lots of nice details here, the moveable parts comes separated, that can be used to give a more dynamic look to the kit. The actuators on the rudders look to be a little bit out of scale but with a slight sanding they will look better.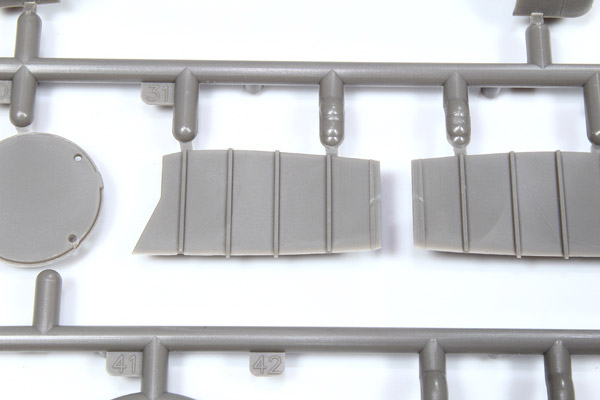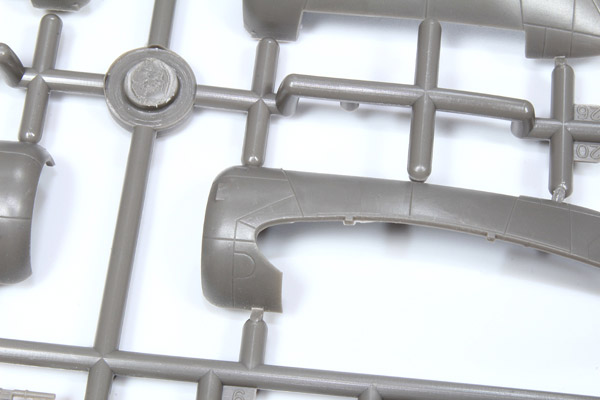 The wheels come in two parts, the tyres are well represented but with sanding some of the detail may be lost. The tyres are not weighted and that would be a nice touch. The wheel wells are, once more, very well detailed. All the internal structure is represented and with some additional "cables" it will look really good.
The engines look very nice and as all the other areas are plenty of parts to get together till they are finished.
The ejection pins marks are a little bit all over the parts, but all in strategic areas, and only a couple will hardly be seen, once the kit is build. Almost no flash is visible and any that exists is really easy to be removed.
Some parts are not for use since they are only usable on the previous version, the DO 17Z-10.