Our SMN build
The good news is that we've now had this model for a short while and Aaron S is well into the build as I write and so we'll be starting that in Build Now very soon so keep an eye on What's New for it. Aaron has already built a smaller scale example of the Ho 229 and finished it using some great wood-veneer decals and the plan is to incorporate this effect in some way on the ZM kit build, so really quite excited about how Aaron will tackle this, yet show off much of the detail interior on offer in the package.


Above is a photo of what's to come from Aaron – the engine largely completed from the new ZM Ho 229 Horten kit ☺
And… here are a couple of photos of Aaron's smaller scale finished Ho 229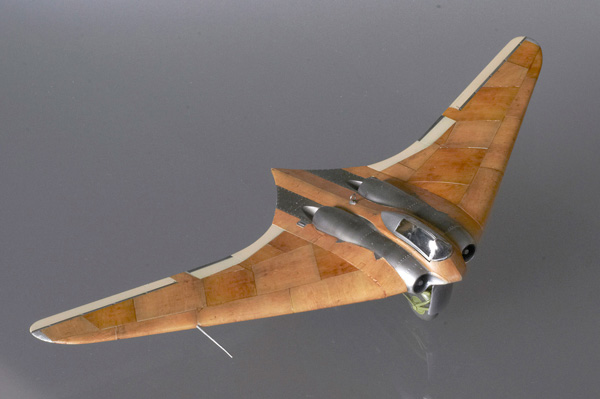 ZOOM - Move your mouse over image
This new build will come hot on the heels of the Zoukei-Mura J7-W1 Shin Den 1.48 and Zoukei-Mura Mitsubishi J2M3 Raiden 1:32 that we have completed and you'll find in Finished Now
Some initial thoughts
It's great to see a 1:32 scale Ho 229 Horten 'Flying Wing' – who'd have thought it would happen? Certainly a first in this scale to the level we have in this package.
However, it's worth noting the approach that ZM take with their product range – highly detailed, accurate and authentic models; no, scale replicas of the real thing. This means that what you get is a whole lot more than any other comparable 1:32 kit – the opportunity to leave panels off or open like the engine cowls, gun bays, and so on. If you like the build process, adding detail and showing detailed interiors, then this model is likely to appeal to you hugely. On the other hand, some of that lovely interior detail is going to get hidden by panels when you close up the wings. So, I reckon that you probably fall into one of two schools of thought on this:
1 – Hey, wow all that detail – fantastic, can't wait to add it, or…
2 – I can't really see the point if it's going to get covered up
As a general rule, I fall into the second category but what I really like about this model is that a lot of the interior detailing will be or can be displayed on your finished model – especially given that much of the airframe skin is provided as clear plastic parts. For example, you can have the full engine and bay on display or not, but you'll probably have to decide whether to use the clear parts as supplied or paint them and close it all up – dilemmas, dilemmas!